Brazil/Uruguay expect Paraguay to join in speeding Mercosur/EU negotiations
Monday, May 25th 2015 - 08:00 UTC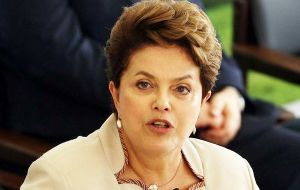 Uruguay will be hosting Paraguayan president Horacio Cartes in early June when he is expected to confirm' his country's support to Uruguay and Brazil in their renewed approach to accelerate negotiations for the signing of a full cooperation and free trade agreement with the European Union, which were started fifteen years ago.
"In June we will be receiving Paraguay's president, and most certainly we will be addressing issues related to Mercosur", said President Tabare Vazquez following his recent return from a day's visit to Brasilia where he agreed with Brazil's Dilma Rousseff to speed talks to reach an agreement with the EU.
Cartes on taking office in 2013 promised to improve Paraguay's trading opportunities, "our commitment is to endeavor all our efforts in normalizing relations for a common market", and since then not only has he had strong support from the EU but has also applied to link with the more dynamic Alliance of the Pacific.
Paraguay was suspended from Mercosur in June 2012, as well as by the Union of South American Nations, Unasur, following the removal by congress through political impeachment of then president Fernando Lugo. None of the two groups accepted that left leaning Lugo should be replaced by a conservative Senate which repeatedly denied the incorporation of Mercosur's fifth full member and at the time ruled by Hugo Chavez. With Paraguay suspended Venezuela was immediately admitted.
Uruguay's economy minister Danilo Astori also expects Paraguay to support the understanding reached by Brazil and Uruguay, during Vazquez' meeting with Rousseff, to speed the agreement with the European Union and equally significant finding a mechanism to overcome resolution 32/2000 which demands consensus from all Mercosur members in all trade issues, including in bilateral accords which could be reached by individual members.
"We are all committed, Brazil, Uruguay and Paraguay to sign the trade agreement with the EU in the short term. We expect negotiations to begin in three weeks time" so the exchange of tariff reductions proposals can take place, indicated Astori.
Although the idea is for all members to make a joint proposal, Uruguay and Brazil want to advance as fast as possible, and for this they are proposing changes to the Mercosur rules. However there is the formidable feet dragging from Argentina, and Paraguay's explicit support would be essential for the presentation of the reforms. The idea is for Argentina to join when she wishes and if she feels the terms are convenient.
At the meeting in Brasilia with Vazquez, Rousseff declared "we will propose to the EU that in the shortest time possible we make the simultaneous presentation of our trade proposals". Brazil is scheduled to take over from Argentina the six-month Mercosur chair next month.
But this point is not without controversy since the EU pretends from Mercosur a single joint proposal from its five full members.
"We are going to listen to what Mercosur has to say: we're after an ambitious accord not only relative to products but also to the number of countries involved", said EU ambassador in Montevideo, Juan Fernandez Trigo.
Reaching an agreement with the EU, and allowing Mercosur individual members reach trade deals with third parties has been a constant of Uruguay's policy, but it always faced the resistance from Brazil and Argentina. Landlocked by Argentina and Brazil, Paraguay agreed with Uruguay, but in silence.
However with the new global scenario, Brazil in recession and in desperate need of having access to other markets, it changed policy 180 degrees and now is most anxious to agree with the EU and open to all other possible trade opportunities.