Cristina Fernandez leads ceremony returning San Martin's saber to the National History Museum
Monday, May 25th 2015 - 07:38 UTC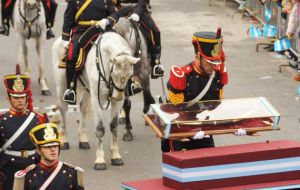 President Cristina Fernandez led a ceremony on Sunday where the National History Museum received, after 48 years, the saber that belonged to Argentina's Liberator General José de San Martín currently at the Mounted Grenadiers Regiment.
The move started at 11 this morning with a patriotic parade through main streets of Buenos Aires City, Luis María Campos, Int. Bullrich, Del libertador Avenue, Leandro Alem, Rivadavia, Bolívar, Yrigoyen, Paseo Colon up until Lezama Park. During the walk, a stop was made at the Metropolitan Cathedral, where the liberator remains rest.
The saber is the weapon that accompanied San Martín during the Independence War and that was bequeathed to Juan Manuel de Rosas until his offspring decided to donate it to the National State in 1897 under the custody of the National History Museum, where it was exhibited for almost seven decades.
The turbulent 1960's gave back an unexpected protagonism to the saber when – during the prohibition of Peronism-, the weapon was recovered in two occasions by members of the Peronist Resistance until in 1967 the saber was removed from the National Historical Museum by dictator Juan Carlos Onganía.
The sword now will be on public display in a room specially designed with modern security and conservation measures.
The ceremony was part of 'May Revolution Week' celebrations which recalls Argentina's first national assembly that on 25 May 1810 declared itself independent from then occupied Spain by Napoleon's forces.
This was the last 25 May celebrations that president Cristina Fernández will be leading since next October elections are scheduled in Argentina and on 10 December she must step down.