Almagro as new OAS chief pledges to end fragmentation and to work with all countries
Wednesday, May 27th 2015 - 05:13 UTC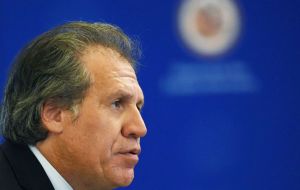 The former Foreign Minister of Uruguay Luis Almagro Lemes took office on Tuesday as Secretary General of the Organization of American States (OAS) during a meeting of the Permanent Council at the headquarters of the Organization in Washington, DC.
He replaced outgoing Jose Miguel Insulza from Chile, who held the post for two consecutive five-year mandates.
In his inauguration speech Almagro announced he will work with all the countries of the region "without exception" and expressed his conviction that "it is time to put an end to unnecessary fragmentations. Beginning on May 26, as Secretary General of the OAS, my efforts will be focused on making the Organization a useful tool in the interests of all the peoples of the Americas, wherever they are from," he said.
In another passage of his speech, Almagro underlined that "to you, as representatives of the peoples of the Americas, I owe you, and I thank you for your vote of confidence. In me you will find a tireless fighter for the unity of the Americas, more concerned with seeking practical solutions to the enduring problems of our region than with rhetoric and stridency in statements guided by one ideology or another."
As he had anticipated in his proposal to occupy the OAS chair back in February, Almagro recalled that part of his task in the coming five years will be dedicated to make sure Cuba can fully integrate to OAS, "taking into account the need to allow for time and process' factors which are not under our control"
To that respect Almagro said that the Americas' Summit held in Panama last April "marked an inflection point for our hemisphere. The inclusion of Cuba together with the renewed bilateral relations with the United States opens a fan of distension with a beneficial effect for the whole hemisphere".
The Uruguayan diplomat was elected Secretary General on March 18 with 33 votes in favor, one abstention and no votes against from member states. The Chair of the Permanent Council and Permanent Representative of Trinidad and Tobago to the OAS, Neil Parsan, was in charge of welcoming the new OAS Secretary General during the inauguration.
Almagro will be holding his post for an only five-year mandate following an agreement that his successor in 2020 will be a representative from the Caribbean and Central American countries.
Secretary General Almagro was elected for a period of five years from May 2015 to May 2020. He is the second Uruguayan to lead the OAS, after Jose Antonio Mora (1956-1968). He was also preceded in office by Colombians Alberto Lleras Camargo (1948-1954) and Cesar Gaviria Trujillo (1994-2004); Chileans Carlos Dávila Espinoza (1954-1955) and José Miguel Insulza (2005-2015); Ecuador's Galo Plaza Lasso (1968-1975); Argentina's Alejandro Orfila (1975-1984); Brazilian João Clemente Baena Soares (1984-1994); Costa Rica's Miguel Angel Rodriguez (2004); and United States citizen Luigi R. Einaudi (interim, 2004-2005).
To you, as representatives of the peoples of the Americas, I owe you, and I thank you for your vote of confidence. In me you will find a tireless fighter for the unity of the Americas, more concerned with seeking practical solutions to the enduring problems of our region than with rhetoric and stridency in statements guided by one ideology or another."