FIFA scandal points to Valcke, as 'high ranking official' in US$ 10m transfer
Tuesday, June 2nd 2015 - 05:18 UTC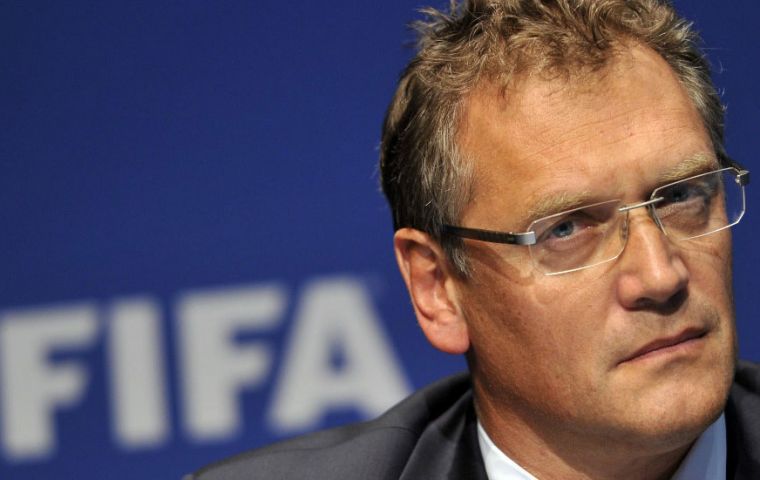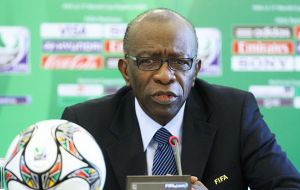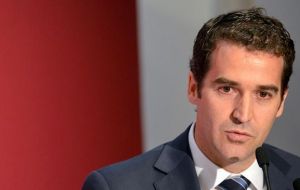 The ongoing FIFA scandal has prompted FIFA secretary general Jerome Valcke to skip the opening news conference of the Women's World Cup. As of Sunday evening, Valcke had been slated to attend Thursday's event in Vancouver along with Canadian and other officials. But that changed Monday afternoon.
"Due to the current situation, FIFA secretary general Jerome Valcke will not be attending the opening of the FIFA Women's World Cup Canada 2015 as previously scheduled," FIFA said in a release. "It is important that he attends to matters at FIFA's headquarters in Zurich".
The world governing body of soccer has been rocked by arrests and indictments on both sides of the Atlantic prompted by allegations of corruption from the FBI and U.S. Department of Justice.
The opening news conference will now feature Tatjana Haenni, FIFA's deputy director of the competitions division and head of women's football, Canadian Soccer Association president Victor Montagliani and CSA CEO Peter Montopoli, and Lydia Nsekera, chairwoman of FIFA's Committee for Women's Football and the Women's World Cup.
The opening news conference is to provide "an overview of the preparations as well as present their expectations of the tournament," according to FIFA.
The media availability follows a meeting of the Committee for Women's Football and the FIFA Women's World Cup.
Valcke has been FIFA's point man for the tournament. He was the top FIFA official at the World Cup draw in December at Gatineau, Quebec, and was the chief spokesman for soccer's world governing body on the legal challenge to the use of artificial turf at the tournament.
However The New York Times broke news saying that Valcke is described in an indictment filed in the federal court in Brooklyn, New York, as an unidentified "high-ranking FIFA official" who in 2008 transferred the sum (10m dollars) to another FIFA official, Jack Warner.
Valcke is not named as a defendant and has not been accused of any wrongdoing. He was not immediately available for comment.
A spokeswoman for FIFA said the 10m dollars in bank transactions were authorized by the then-FIFA Finance Committee chairman. The Finance Committee chairman was Julio Grondona, who died last year.
Valcke and Blatter are the top two officials within FIFA.
Valcke's connection to the case was first reported by The New York Times. The Times did not say Valcke had written in an email to the newspaper that he had authorised the payment nor had the power to do so.
As new questions arose in the FIFA scandal, more officials were arrested, suspended or banned on Tuesday, and countries were weighing a World Cup boycott amid controversy over the re-election of Blatter as FIFA president.
Meanwhile Warner, a former FIFA vice president, who is among 14 FIFA officials and corporate executives charged by the U.S. Department of Justice with running a criminal enterprise that involved more than 150 million in bribes, left jail in Trinidad and Tobago after he was granted bail, according to local media.
"Why are there no investigations in Asia, or in Europe?" Warner asked German magazine Stern in an interview released on Monday.
"Why are there no investigations into Sepp Blatter? No other person has brought so much shame and disgrace on FIFA."
A court transcript released on Monday said Warner's son, Daryan Warner, secretly agreed in 2013 to cooperate with US authorities and to admit to participating in a World Cup ticket-reselling scheme.
The 10 million payment is a key feature of the indictment accusing Jack Warner of taking a bribe in exchange for helping South Africa secure the right to host the 2010 World Cup.
Meanwhile FIFA in Zurich decided the suspension of Enrique Sanz, the general secretary of CONCACAF (the Confederation of North, Central America and the Caribbean Association Football), as well as Congolese Football Association (FECAFOOT) officials Jean Guy Blaise Mayolas and Badji Mombo Wantete.