IMF calls on the Fed to keep rates on hold until first half of 2016
Friday, June 5th 2015 - 06:22 UTC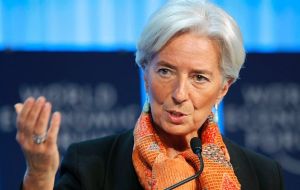 The International Monetary Fund urged the Federal Reserve to wait until the first half of 2016 to start raising short-term interest rates because the US economy remains subpar. In its annual checkup of the US economy released Thursday, the IMF said "the underpinnings for continued growth and job creation remain in place."
But America's "momentum was sapped in recent months by a series of negative shocks," including a harsh winter and a strong dollar that hurts US exports. The IMF predicted the US economy will grow 2.4% this year, down from its April forecast of 3.1%.
The agency said the Fed should wait for more signs of improvement — specifically "greater signs of wage or price inflation." The central bank has kept its key benchmark rate at a record low near zero since December 2008.
Many private economists, however, speculate that the Fed will start raising rates this September. In a speech last month, Fed Chair Janet Yellen said she expects to begin raising rates by the end of the year.
The Fed reiterated in its most recent policy statement that it needs to be "reasonably confident" that inflation will move back up to the Fed's 2% target. But the IMF said it doesn't see inflation reaching that level until mid-2017.
US consumer prices fell 0.2% in April from a year earlier, largely because of plummeting oil prices. Excluding volatile food and energy prices, core inflation grew just 1.8% over the 12-month period.
"The economy would be better off with a rate hike in early 2016" IMF Managing Director Christine Lagarde said. She added the risks of raising rates too soon outweighed the risk of keeping rates on hold and allowing inflation to slightly exceed the Fed's 2 percent target.
The Commerce Department reported last week that the US economy shrank at an annual rate of 0.7% from January through March. A widening trade deficit was largely to blame. The stronger dollar makes US exports more expensive overseas and foreign imports cheaper in America.
After rising more than 20% against both the euro and the Japanese yen since June 30, the US dollar appears to be "moderately overvalued," the IMF said.
The agency said the US financial system is stronger than it was before the Great Recession but warned of "potentially serious" threats to stability.
The IMF expressed concerns about the growth of so-called shadow banks, lightly regulated financial firms that operate outside the traditional banking system. It warned that insurance companies have tried to compensate for low interest rates by making riskier investments and could be vulnerable in a financial panic. And it urged Congress not to roll back 2010's Dodd-Frank law, which strengthened financial regulation.