Uruguay sacks ambassador over disagreements on Mercosur/EU trade policy
Friday, June 5th 2015 - 21:47 UTC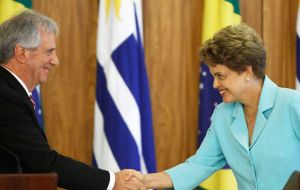 Uruguayan president Tabare Vazquez removed the country's ambassador before the European Union following comments on Mercosur/EU trade and cooperation negotiations which contradicted recent statements by foreign minister Rodolfo Nin Novoa regarding trade strategy and policy.
Ambassador Walter Cancela told earlier this week, visiting Uruguayan journalists in Belgium that if the EU/Mercosur trade agreement effectively advances it will be on "a block-to-block basis", no two-speeds option has been formalized and Argentina will be included in whatever shape the final agreement is reached.
"The agreement is between Mercosur four founding members, not separately because the EU has a mandate to negotiate with Mercosur, and not with the governments of Uruguay, Argentina, Paraguay or Brazil", said the now displaced ambassador.
"To start with there is no formal 'two-speeds' option considered or on the table", added Cancela.
His remarks follow on recent, repeated, statements from foreign minister Nin Novoa who anticipated that "it is possible to sign an (EU/Mercosur) agreement if Argentina requests a couple of years moratorium for the treaty to become effective".
Once the clashing statements became public, Nin Novoa was emphatic in his position arguing that his was the official position of the Uruguayan government and "foreign policy is laid out by the President". The minister then added that "the ambassador's statements have been disavowed" and pointed out he was looking for a replacement in Uruguay's EU Brussels embassy.
According to reports on Thursday, President Tabare Vazquez was quite upset with Cancela's statements because they were contrary to Executive's Mercosur policy, agreed with his counterpart Dilma Rousseff, during his recent visit to Brazil, and because of growing concern about a steady drop in Uruguay's exports.
"The president is very much concerned the country could fall behind competitors regarding exports. That is why he has plans to visit France and Japan in the near future to ensure additional trade agreements", said Executive office sources in Montevideo.
Cancela is a trained economist and international trade expert, who spent many years working for the EU office in Montevideo, in 2005 was named Central Bank chairman and later ambassador before the EU in Brussels.
Uruguay together with Brazil and Paraguay are determined to reach a trade agreement with the EU but face a non convincing support from Argentina, which is going through an election year (next October) and determined to implement a much criticized by trade partners, non orthodox economic policy.
However Brazil which originally accepted Argentina's arguments, is now faced with falling exports, a declining economy and is desperately interested in promoting trade and new markets.
In effect the new (since last January) Development, foreign trade and industry minister, Armando Monteiro is a former head of Brazil's National Industry Confederation, a strong manufacturing lobby which has always pushed for an open trade policy and is one of the main promoters of the new policy.
PD. At the end of the week the Uruguayan government said it had "never announced the dismissal of Ambassador Cancela", contrary to eralier statements. Cancela will be leaving his post in Brussels when his time is up in a couple of months.