Ramsar convention in Punta del Este calls for healthy wetlands
Saturday, June 6th 2015 - 08:31 UTC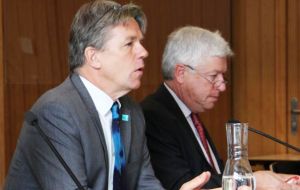 We join the rest of the world to celebrate World Environment Day from glorious Punta del Este, Uruguay, where we are currently meeting at the 12th Conference of the Contracting Parties to the Ramsar Convention on Wetlands. The Contracting Parties have gathered and are very hard at work, to define a new Strategic Plan that will guide our commitment to conserve and wisely use the world's wetlands, over the next six years from 2016 to 2021.
Healthy wetlands are fundamental for life and of enormous value to humanity and the planet. Wetlands can be natural or artificial, seasonal or permanent. They include aquifers, lakes, rivers, streams, marshes, peatlands, ponds, flood plains and swamps. Coastal wetlands include all coastlines, mangroves, saltmarshes, estuaries, lagoons, seagrass meadows and coral reefs.
Wetlands are as varied as the variety of benefits and services that they provide. From the simple joy of walking along a coastline and enjoying the sunset, to a vital source of food and fresh water, or a welcome stop over for thousands of migratory birds. Mangroves are also a protection against storms for people living along coastlines, while peatlands store carbon and are a natural solution to mitigating climate change.
This year's theme, "Seven Billion Dreams One Planet. Consume with Care", is aptly chosen and sums up how me must view our environment. We need a healthy environment in which we can to continue to dream, grow, prosper both now and in the future. Nature provides inspiration and natural solutions. Our sole responsibility is to care for our planet.
On this day, as we celebrate the environment, we also recognize all those who work with passion, dedication and commitment, to ensure that wetlands are conserved, restored and wisely used. Their leadership is what will result in wetlands for our future.
Here in Punta Del Este, over 800 delegates from 160 countries, have come together, united under a common umbrella, an appreciation for wetlands and a deep understanding that they are essential for sustainable development. They have a common vision and are working collectively to define priority actions that will stop, prevent and reduce the drivers of wetland loss and degradation.
We are optimistic that the year 2015 will be an extraordinary year of change for the environment and the realization of the dream of those who called for sustainable development, development that meets the needs of the present without compromising the ability of future generations to meet their own needs.