Francis receives Cristina Fernandez, but is criticized for mingling in Argentine politics
Monday, June 8th 2015 - 07:49 UTC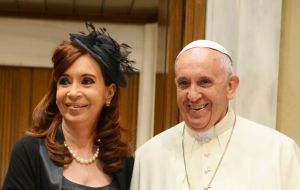 Argentine President Cristina Fernandez was received on Sunday in the Vatican by Pope Francis for an encounter that lasted almost two hours, in the fifth meeting between the pontiff and head of state since the ex-Buenos Aires archbishop was elected to the Holy See. The meeting however was not without criticism from Buenos Aires.
"I had with Pope Francis a very warm encounter, as always, in which we talked about a lot of issues, the regional issue, world peace," Cristina told reporters following the audience.
The meeting began at 5pm in Rome and continued for a total of one hour, 40 minutes, after which the President's delegation was introduced and gifts exchanged. According to the Presidency's official news agency, CFK later returned to her hotel in the Italian capital.
Prior to the audience Francis approached and welcomed the journalists present to cover the encounter, greeting the Argentine reporters with an affectionate recognition of 'Journalists' Day', celebrated on Sunday.
From Buenos Aires lawmaker and presidential hopeful and fervent Catholic, Elisa Carrio complained the Pope was meeting with political leaders in Argentina's election year, something he had promised to avoid precisely to stop politicians taking advantage of his picture and influence.
"Don't let me down Francis, abide by your promise not to interfere with Argentine politics", blasted Ms Carrió during a political rally in Buenos Aires.
"I am deeply disappointed that whenever Francis gets mingled in Argentine affairs he does so with the basic units (grass-root cells of the ruling Peronist party)", added Ms Carrio who is a member of the opposition and a relentless critic of the current Argentine government excesses and alleged rampant corruption.
"I want you as a universal shepherd of all of us; I don't want to see you involved in government politics to see who will be the next candidate" complained Carrio. And then added, "by the way I was the first in Argentina to know that Jorge Bergoglio was to be the next Pope".
Finally, "Francis when you get involved in Argentina you think you are God, but remember you are just a man, only a human being".
Earlier in the day Cristina Fernandez met with former Brazilian president Lula da Silva in Rome who is attending the FAO conference. The Argentine leader official agenda continues tomorrow Monday when she will receive a prize from the United Nations Food and Agriculture Organization recognizing Argentine efforts to reduce hunger, one of the Millennium Objectives agreed in the UN earlier this year.
Argentine government sources also revealed that the two leaders could again meet in the near future: that is when Pope Francis plans to visit Cuba, before heading for the United States.