Paraguay believes in a 'single speed' approach to Mercosur/EU trade talks
Tuesday, June 9th 2015 - 08:06 UTC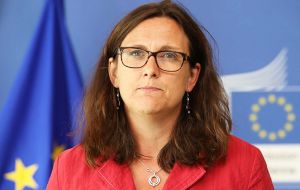 Paraguay believes in a 'single speed' approach to negotiations for a trade agreement between Mercosur and the European Union, but discussions must be more dynamic and wide ranging, said the country's president Horacio Cartes, currently visiting Spain.
"We, as a member of Mercosur want a speedier relation with Europe, a relation which some talk about a 'two-speeds' approach, but we prefer a single speed", said Cartes who nevertheless pointed out that Mercosur needs more relations with other countries: "we should follow the example of Chile, they have more trade agreements than all Mercosur members put together, Argentina, Brazil, Uruguay, Venezuela and Paraguay".
The Paraguayan leader further on said he did not believe that the coming October presidential elections in Argentina, or the following government, even if it were more open in trade terms, should have an influence on the negotiations event.
"I believe we don't have to wait, we can't wait anymore. Elections are part of the political agenda of each country, and we should not try to delay or try to stop something which is good and positive for all Mercosur members. If there is something which is banned in all this process is fatigue, feeling exhausted", pointed out Cartes.
This week on 10/11 June, Brussels will be hosting the II summit of Celac (Community of Latin American and Caribbean States) and the European Union heads of state and of government, a total of 61 countries. It was agreed that in the sidelines of the summit Mercosur representatives will meet with EU Trade Commissar Cecilia Malmstrom to assess the current situation of negotiations and the next steps.
Cartes said he was hopeful that at the end of the day an agreement will be reached which is beneficial for both sides, Mercosur and the EU, because if it is sided "we're on the wrong track".
"I believe there is a friendly atmosphere, I trust in the efforts and good intentions from both sides. I wouldn't be surprised if the agreement is delayed, but we'll make it; anyhow I would request the EU to be less protectionist when it comes to farm produce".
Cartes on Monday started an official visit to Spain which includes attending business and investment seminars, as well as meetings with King Felipe VI and the president of the Spanish cabinet, Mariano Rajoy.