Presidential hopeful Scioli names Cristina Fernandez confident as his running mate
Wednesday, June 17th 2015 - 05:56 UTC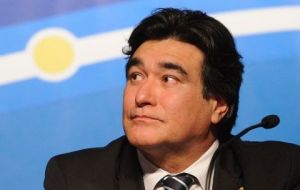 Argentine presidential hopeful and Buenos Aires province governor Daniel Scioli announced he will run for president with Carlos Zannini, the current Legal and Technical Presidential secretary and one of the closest advisors of President Cristina Fernandez, completing the ticket.
Making the announcement on C5N, Scioli confirmed that he had made the choice after speaking with President Cristina Fernández and proposing the official as running mate.
"I spoke with Cristina and gave her my point of view. I had said that I wanted someone who would complement me with experience. It was important for me to be accompanied by a man of commitment, experience and responsibility like Zannini," he explained.
Scioli added that the head of state "was pleased" with the choice, as Zannini forms part of CFK's inner circle of officials. The politician's relationship with the Kirchners goes back to Santa Cruz, while he also enjoys strong links with Cristina's son Máximo and La Cámpora.
Scioli, who has been governor of Buenos Aires since 2007 and before that was vice-president to the late Néstor Kirchner, is expected to be one of the front-runners in the race to succeed Cristina Fernandez in next October's elections.
Opinion polls have Scioli as the leading candidate given the strong support from the ruling Justicialista movement.
Born in Córdoba but with Santa Cruz as his second home, Daniel Scioli's new running mate Carlos Zannini is a politician with a long history of trust and co-operation with both Néstor and Cristina Kirchner.
Zannini was born in 1954 in the Córdoba town of Villa Nueva, and stayed in his home province until completing law studies in the Córdoba National University. Two years in prison during the last military dictatorship convinced him to seek new horizons in the south of Argentina.
It was in Santa Cruz that he met Néstor Kirchner in the Peronist office El Ateneo. The relationship forged in that time lasted until the day the ex-president passed away in 2010. When Kirchner took over as Río Gallegos mayor 'El Chino', as he is known, followed him as Government secretary. Zannini stayed by Kirchner's side as governor, where he took over as president of the province's Superior court.
He is nicknamed "El Chino" because of his facial appearance and also when at university he started belonging to some of the Mao-Marxist oriented students' groups.
When the Kirchners arrived in Government House the now candidate for vice moved to Buenos Aires to take the post of Legal and Technical secretary. Alongside Labor minister Carlos Tomada he is one of the few officials to stay in his post right from the beginning.
Zannini is also known as the legal architect of all the key bills and decrees formulated by Kirchnerites.
A low-profile official, his appearances have come at times when Kirchnerism needed strong support for a bill or act. The tight links he enjoyed with Néstor were maintained with Cristina when the former head of state passed away. Zannini also forms the top table, with Máximo Kirchner, of the K universe and has strong connections with La Cámpora.
In recent times the secretary has been in charge, alongside Eduardo 'Wado' de Pedro, of luring back mayors who had defected to Sergio Massa's Renewal Front, a dissident Peronist.