Thatcher secret documents on Falklands' war reveal her anxiety over casualties
Friday, June 19th 2015 - 06:02 UTC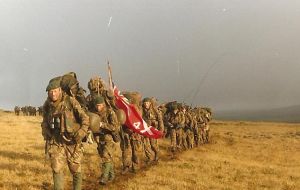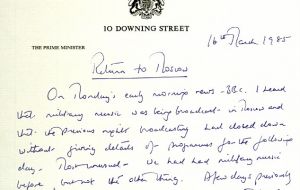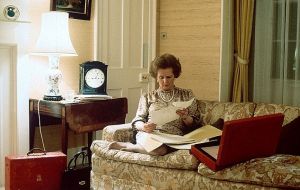 The Mail on line revealed on Thursday a secret handwritten account of the Falklands War by Margaret Thatcher. The 128 page, 17,000 word handwritten memoir of the 1982 conflict reveals for the first time her anxiety on the eve of battle and her joy at winning back the Islands from Argentina.
According to the piece credited to Martin Robinson, "experts today declared it 'the single most significant historical document Margaret Thatcher ever wrote' - and was so secret only her husband Denis probably knew about it".
It is one of several private documents released on Thursday charting her 11-year term as Prime Minister, including the 1984 negotiation of the multi-billion EU rebate and the start of her friendship with Mikhail Gorbachev in 1985. All these documents have been donated to a Cambridge college in lieu of £1million of inheritance tax.
As to the Falklands document, Mail on line says it was written in secret a year after the conflict and reveals her anxiety on the eve of the British invasion on May 21 1982.
She wrote: 'The Union Jack was flying in San Carlos Bay. We had returned to the Falklands. My heart was full but desperately anxious about casualties'.
It also describes the decision to sink the Belgrano and her sorrow over British deaths on HMS Sheffield and HMS Coventry.
The conflict began on April 2 1982 when Argentina invaded the British Overseas Territory. Within days a British task force was sent on the 8,000 mile journey to re-take the islands.
Mrs. Thatcher wrote of the launch: 'The Task Force had been dispatched with a speed and efficiency which astounded the world and made us feel very proud and very British'.
After the fleet arrived in early May they set up an exclusion zone around the Falklands and then on May 2 the Argentine cruiser, General Belgrano was sunk by British submarines.
Mrs. Thatcher wrote: 'We decided that British Forces should be able to attack any Argentine naval vessel.
'The next day, Monday 3rd May, the submarine torpedoed the Belgrano which later sank. The two accompanying destroyers were not touched but were slow to pick up survivors from the Belgrano. We knew she had been hit but it was some hours before we knew she had sunk'.
But she also described her anxiety when HMS Sheffield received a missile attack and was destroyed, and 20 men died and 24 more were terribly injured as fires ripped through the ship.
Explaining her thoughts about telling the families she wrote: 'We never learned how best to announce grievous news'.