Venezuelan lawmakers blast Brazilian senators' trip as 'abusive and meddling'
Saturday, June 20th 2015 - 08:38 UTC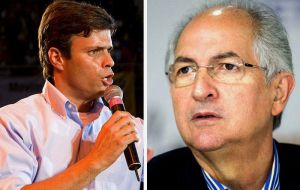 Venezuela's ruling Socialist Party legislators reacted to a trip by Brazilian senators to visit jailed opponents of President Nicolas Maduro by describing it as "abusive" and "meddling". The Brazilian delegation's visit on Thursday was cut short after their minibus was stoned by Maduro supporters and roads were blocked, forcing them to return to the airport and fly back the same day.
The Brazilian senators had hoped to visit detained politicians including hardliner leader Leopoldo Lopez, on a partial hunger strike in a military prison, and Caracas mayor Antonio Ledezma, who is under house arrest.
Members of Maduro's Socialist Party said the half-dozen Brazilians were part of a right-wing international conspiracy.
"There is an ill intention from these political groups, not only to come and threaten ... but also to torpedo the good relations between Venezuela and Brazil," National Assembly Vice President Tania Diaz told reporters.
"They want the same as Venezuela's extreme right: to isolate the country and sabotage integration."
Foreign support for opposition leaders is a sensitive issue for the Nicolás Maduro government, which views them as US-backed agitators intent on fomenting a coup.
In Brazil the government of President Dilma Rousseff, a close ally of Maduro, under pressure from Congress, including members of her own Workers Party, made a public statement demanding the Venezuelan government formally explains what happened during the frustrated trip and attack on the senators' minivan.