Cristina Fernandez ensuring continuity for Kirchner's 'development 'project'
Monday, June 22nd 2015 - 07:35 UTC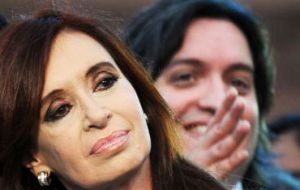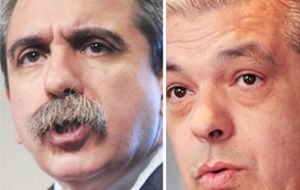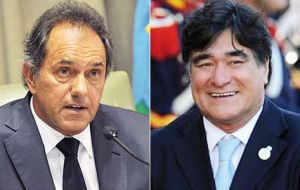 Argentine President Cristina Fernandez will not run for any office in this year's general elections, but she has set up supporters in key candidacies for the primaries in which 13 presidential hopefuls are participating. These include her two closest advisors since the death of her husband Nestor Kirchner and they are, son Maximo Kirchner, and Carlos Zannini, the Legal and Technical Secretary of the Executive.
The president's decision came as a surprise when the registration deadline passed at midnight on Saturday, since local political analysts and the media had speculated that she would run for at least a Mercosur parliamentary seat with an eye toward obtaining legislative exemption and other benefits.
However Cristina Fernandez who steps down next 10 December when her second term ends, has put several of her ministers and influential La Campora leaders, including the founder of that group, her own son Maximo Kirchner, 38, into candidacies of their own.
La Campora is a political youth organization that supports Cristina Fernandez and the agenda of her late husband and predecessor Nestor Kirchner.
The president also has seen to it that the ruling Front for Victory's sole candidate for president in the Aug. 9 primaries, Buenos Aires Gov. Daniel Scioli, is a close ally of hers and hopefully will guarantee the continuity of the Kirchnerist political movement if he wins the election in October.
Just in case to make things quite clear Zannini, the legal and technical secretary to the presidency since May 2003, when Kirchner became president, will be Scioli's running mate. Zannini is the man that drafts legislation and is consulted daily by the president.
Voter surveys agree at present that Scioli has a support between 30% and 35% of voters. The only serious competition so far comes from Mauricio Macri, mayor of Buenos Aires, a conservative that has ruled comfortably in Argentina's capital, which historically has showed displeasure with Peronism. Besides Macri does not have a strong structure outside Buenos Aires City, at the most significant public opinion support.
Although Cristina Fernandez will not be running, she will pull in votes if she involves herself actively in the campaign, said analyst Rosendo Fraga, with the Nueva Mayoria consulting outfit.
Likewise in Argentina's main electoral circuit and decisive for any presidential election, the province of Buenos Aires, currently run by Scioli, the president has also promoted two tickets: her cabinet chief Anibal Fernandez as governor pre-candidate, next to Martín Sabbatella, head of the Audiovisual Authority which among other things in committed to dismember the opposition Clarin Group and hand several media companies to Kirchners' friends.
The other ticket is made up of lawmaker Julian Dominguez, speaker in the Lower House, and Fernando Espinoza, currently mayor of La Matanza, one of 120 municipalities that make up the backbone of the hegemonic Peronism movement in the province of Buenos Aires. Whichever ticket wins the primary, the phenomenal political support structure which the government has in the province it makes it difficult to believe in anything but victory.
"If and when the judicial situation and that of her entourage doesn't substantially worsen the president probably will seek seclusion starting in December at El Calafate, her 'place in the world.' Perhaps she will also devote herself to making international speeches - something that fascinates her," pointed out analyst Patricio Giusto, the director of the Diagnostico Politico consulting firm.
"If Scioli loses, ... at least the continuity of Kirchnerism is guaranteed via the significant legislative representation it will have," said Giusto, adding that Cristina Fernandez "leaves the presidency looking toward 2019, whoever wins this year." After all she was not pleased when her plans for a constitutional amendment that would have opened the way for a third consecutive mandate failed.