Falklands' war: Thatcher 'very angry' with the BBC with the coverage of UK military plans
Monday, June 22nd 2015 - 05:55 UTC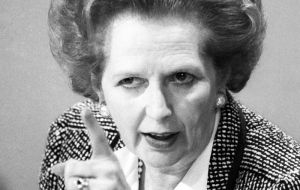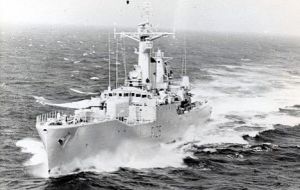 Margaret Thatcher accused the BBC of "assisting the enemy" during the Falklands War by broadcasting the moves British troops were likely to make before they actually happened, according to new documents revealed in the UK media.
Baroness Thatcher wrote that she was "very angry" at how the BBC covered the conflict, accusing it of neglecting "the safety of our forces" by reporting their every move.
In a 17,000-word handwritten account penned in the space of one weekend a year after the conflict, Lady Thatcher expressed her deep concern at how the corporation covered the war. "Many of the public (including me) did not like the attitude particularly of the BBC and I was very worried about it."
"They were sometimes reporting as if they were neutral between Britain and Argentina. At other times we felt strongly that they were assisting the enemy by open discussions with experts on the next likely steps in the campaign.
"My concern was always the safety of our forces. Theirs was news."
One example was when the QE2 cruise ship, which had been drafted in to ferry soldiers to the Falklands, began transferring troops to other ships and the BBC immediately reported its whereabouts and actions.
"I knew this was planned but it was devastating to hear the report at about the time it was due to take place," Thatcher wrote.
"Within eight hours of that broadcast reconnaissance planes were over South Georgia searching. They had not been there for weeks. Fortunately they did not find the ships – the sea is a big place."
The Telegraph reports that the BBC issued strict guidelines telling staff to remain neutral during the conflict and avoid using terms such as "our" to describe British forces. "We are not Britain. We are the BBC," they said.
Lady Thatcher later criticized this in her autobiography, calling it the "chilling use of the third person".
The account is one of a large collection of private notes published by Churchill College, Cambridge, which holds Lady Thatcher's archives.
The notes also reveal how the former Prime Minister felt a degree and anxiety towards the troops and the Falkland Islanders, who she referred to as "our boys" and "our people".
"In fights for liberty we lose our bravest and best. How unjust and how heart-breaking. And at No 10 one was protected and safe – one felt so guilty at the comfort."
Charles Moore, Lady Thatcher's official biographer, said that the note was "very much the writing of a woman Prime Minister."
"Obviously any decent prime minister worries terribly about loss of life but she had a mother's idea about it. It was very deeply felt."