Falklands-born Alexander Betts candidate for a Mercosur parliament seat
Tuesday, June 23rd 2015 - 05:17 UTC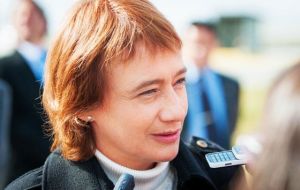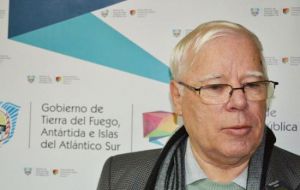 Alejandro Betts, born in the Falklands and now full Argentine citizen will run for office in the Mercosur Parliament, Parlasur, in representation of the Tierra del Fuego province, although he must first overcome the 9 August PASO primaries (open, simultaneous and mandatory), according to reports from the official Argentine news agency, Telam.
Betts who on Sunday cast a ballot in the governorship race in Argentina's southern most province for the first time, accepted the nomination from the Social Patagonia Party, PSP, which is led by Tierra del Fuego current governor Fabiana Rios.
"We thought it would be important to have a voice in Parlasur in representation of Tierra del Fuego. We offered Betts to run as an outsider and he accepted, and he was quite moved about it", said governor Ríos.
"It would speak badly of me if I did not accept such an offer, destined to be part of an organization that is fertile territory to keep insisting on Argentina's sovereign claim over the Malvinas Islands", Betts was quoted by Telam.
Even when taking a bench in Parlasur implies "the representation of Argentina on other issues of great interest, it can't be denied that it is a source of unity for the Malvinas cause and a key place to bring awareness to other countries of our imprescriptible claim over Malvinas", added Betts.
The candidacy of the Falklands born Betts filtered after the closure for the presentation of postulants to the different parties for the August PASO primary.
The province of Tierra del Fuego which according to its official definition also includes the Malvinas and other South Atlantic Islands plus Argentina's Antarctic territory claim, will be renewing three federal Lower House members and one in Parlasur in next October's Argentine general elections.
Betts on Sunday voted for the first time in Tierra del Fuego and said he hoped that "in future more Islanders will be able to so the same".
According to Telam's report, Betts said he was deeply moved with Sunday's ballot which somehow concludes a process that started back in 1976, when living in the Falklands he began reading history and finally was convinced of "Argentine legitimate rights over the Malvinas".
"My stance has not been without sacrifices, but this moment makes me forget all I went through. I'm an Islander voting in my birth place, which is the capital city of the Malvinas Islands".
This is because since Tierra del Fuego has 'jurisdiction' over Falklands/Malvinas according to the Argentine constitution, Betts born in the Islands is registered in the Stanley/Puerto Argentino voting district.
Finally Betts is recorded saying that Argentina is on the 'right path' to recover sovereignty over the Malvinas since "foreign policy implemented by the current Argentine government during the last ten years, has turned the Malvinas cause into a regional and global question".
The Falklands' side of Betts' conversion to the Argentine Malvinas cause is far less elaborate and rather more carnal. Betts, then a young man fell in love with an Argentine lady and following the 1982 war left for the continent with her leaving behind his legitimate wife and family.