Maradona announce he intends to run for FIFA's presidency
Tuesday, June 23rd 2015 - 05:29 UTC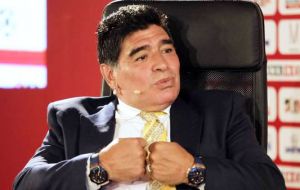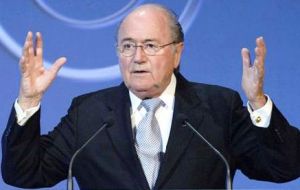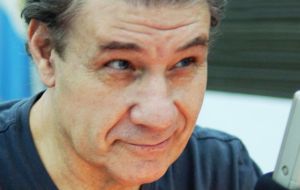 Argentine football legend Diego Maradona has thrown his hat into the ring for the FIFA presidency, according to reports. Reuters quoted Uruguayan journalist and author Victor Hugo Morales saying that Maradona, 54, had revealed his plan on Sunday.
"He told me he was going to run for president of FIFA and authorized me to inform," Morales said on his Twitter page.
"'I am a candidate' were the two words Diego Maradona used to answer me when I consulted him about the nomination for the presidency of FIFA," said Morales, whose hyperbolic commentary of Maradona's brilliant solo goal against England at the 1986 World Cup made him famous in Latin America.
Maradona last month accused FIFA president Sepp Blatter of exacting "a lot of damage" on football ahead of the 79-year-old announcing he intended to quit the position. The 1986 World Cup-winning captain spoke at the Soccerex Asian Forum in Jordan.
"He has done a lot of damage to football since he has been there. It's time for him to step aside and let us, who are full of strength, renovate football," Maradona said at the conference. "Because football is becoming poorer and more corrupt."
Four days after his re-election in Zurich, Blatter announced he would stand down at an extraordinary FIFA congress. The election timetable and rules, as well as some fresh proposals for reform of world football's governing body, will be unveiled at the July 20 FIFA Executive Committee meeting in Zurich. The congress is expected to take place in December.
Since Blatter revealed his exit plan, amid the current corruption scandal threatening to engulf him, Brazilian Zico has announced plans to run for the FIFA presidency.
Former Korean FIFA vice president Chung Mong-joon is also said to be mulling a bid for the top job in world football.
A source close to Olympic powerbroker Sheikh Ahmad Al Fahad Al Sabah earlier this month revealed that the Kuwaiti was waiting for the dust to settle on Blatter's dramatic announcement before deciding whether to stand.
Other possible FIFA candidates include UEFA president Michel Platini and former FIFA presidential challenger Prince Ali Bin Al Hussein, who received 73 votes in last month's election before conceding defeat to Blatter.