Workers Party is old and out of touch, "an internal revolution is needed", blasts Lula da Silva
Wednesday, June 24th 2015 - 08:29 UTC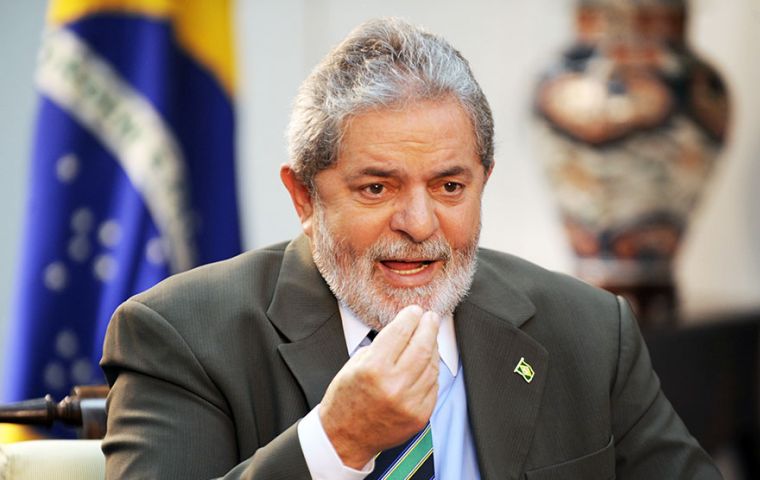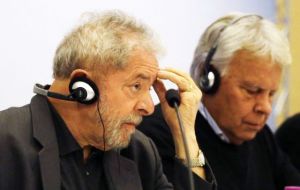 Former President Lula da Silva again blasted Brazil's governing Workers Party, an organization he founded, as old and out of touch. "We have to define whether we want to save our skins and our jobs or if we want to save our project," Lula da Silva said in Sao Paulo during a seminar on democracy, which he attended along with former Spanish Prime Minister Felipe Gonzalez.
Lula recalled the origins of the Workers Party, or PT, in the 1980s, when the organization arose from the unions of Sao Paulo's industrial belt, and asked militants for an "internal revolution" to make way for the young people who poured into the streets to protest in 2013.
"I don't know if it's our fault or the government's. But I believe the PT is no longer so utopian. Today people (of the party) only think about offices, about their positions and about getting elected. Nobody works for free anymore," the former president, who governed between 2003-2011, said.
"The PT is old. I'm 69 now and I'm tired, I'm talking about the same things I talked about in 1980 and I wonder if it's not time for an internal revolution and for new people who think differently," Lula said.
Attending the seminar were the ministers of culture, Juca Ferreira, and education, Renato Janine Ribeiro, along with leaders of social movements like the MST Landless Movement. According to Lula, the PT today is totally absorbed by politics.
On June 13, the PT held its National Congress in the northeastern city of Salvador, and the final document of the meeting left out several points critical of the government raised by various sectors of the party.
Last week, at a meeting with religious leaders in Sao Paulo, Lula also criticized certain positions adopted by the government of President Dilma Rousseff, his political protégé. He claimed among other things that the president is reluctant to travel across Brazil and meet with the people, preferring to remain at her office in the Planalto Palace.