Falklands delegates will again ask Decolonization Committee to delist the Islands
Thursday, June 25th 2015 - 06:33 UTC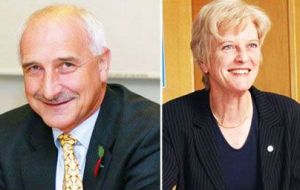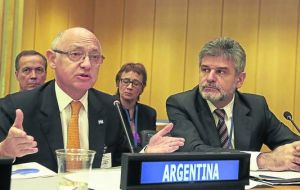 Falkland Islands elected lawmakers with be delivering speeches on Thursday before the United Nations Decolonization Committee as petitioners requesting C24 de-lists the Islands from the Non Self Governing Territories, upholds the Falkland Islanders right to self determination and frees them from the continuous Argentine bullying and harassment.
Members of the Legislative Assembly, Phyl Rendell and Mike Summers will make their case, an annual ritual, while Argentina's delegation headed by foreign minister Hector Timerman and Malvinas Affairs Desk chief Daniel Filmus will again claim sovereign rights over the disputed Falklands/Malvinas Islands.
The Falklands' petitioners are expected to complain about Argentina's ongoing campaign to strangle the Falklands' economy, and most probably will reiterate the invitation to C24 members to travel to the Falklands and check by themselves the reality of the Islands.
This is a special year for the Argentine presentation since it will be half a century since Resolution 2065, approved by the UN General Assembly in 1965, calling for negotiations on the Falklands/Malvinas Islands, between Argentina and the United Kingdom.
Precisely to commemorate the event and in anticipation of Thursday's presentations on Wednesday afternoon the Argentine delegation organized a concert at the UN building with composer Gustavo Santaolalla, while visual arts Miguel Rep, painted a map of the Falklands with black lines on a white background.
"We are commemorating the event because we believe that art, as the UN are calling us to build a better world, more humane, more peaceful, fairer", said Timerman at the opening.
Malvinas affairs desk chief Filmus underlined the attendance of diplomats and representatives to the concert "For dialogue in the Malvinas Question", which reflects "the strong support for Argentina on the issue".
He added that "hopefully tomorrow (Thursday) a consensus declaration will be approved by C24 repeating UN calls for resumption of (Argentina/UK) dialogue and compliance with Resolution 3149 which states no side should be involved in unilateral actions in the zone while disagreement persists".