Obama given authority to conclude trade agreements and US workers financial aid for possible job loss
Friday, June 26th 2015 - 06:25 UTC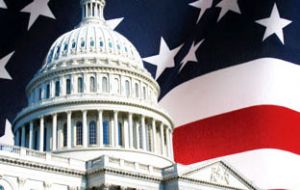 The United States House of Representatives concluded a tumultuous three-week debate Thursday on trade when Democrats reversed themselves and approved a bill designed to provide financial help to US workers who can show they lost their job because of international trade.
The House action means that President Barack Obama will now sign both the worker assistance measure and a companion bill that provides him with the (fast-track) authority he needs to conclude a free-trade agreement between the United States and 11 other Pacific-rim nations.
Just two weeks earlier, House Democrats voted against the same worker assistance measure as part of a strategy to kill the trade authority bill, which most Democrats opposed.
The plan backfired as House Republicans and the Senate approved the trade authority bill. Because Obama wanted both the trade bill and worker assistance measure, House Speaker John Boehner, and Senate Majority Leader Mitch McConnell, promised to allow a second vote on the worker assistance bill.
The worker assistance bill includes a tax credit that will allow thousands of Delphi salary retirees not yet eligible for Medicare to buy health insurance. It also includes an amendment to give the federal government greater authority to respond to nations which dump their steel in the United States at reduced costs.
"Many (Delphi) retirees have been forced to dedicate up to half of their remaining pensions to pay their health bills," U.S. Rep. Mike Turner, R-Dayton, said Thursday. "Passage of my provision to renew the HCTC (Health Coverage Tax Credit) is a significant victory for Delphi Salaried Retirees."
Obama said in a statement the votes provides "a much-needed win for hardworking American families," adding that he is looking "forward to signing these bipartisan bills into law as soon as they reach my desk."
The House approved the worker assistance bill by a vote of 286-138. The bill keeps on track an ambitious agenda to complete a broad trade agreement joining 12 countries — from Canada and Chile to Australia and Japan — into a web of rules governing trans-Pacific commerce.
Negotiators will also move forward on an accord with Europe, knowing that any agreement over the next six years will be subject to a straight up-or-down vote, but cannot be amended or filibustered in Congress.