End of Copa America for Chile's "Finger of God" Jara: three matches suspension
Monday, June 29th 2015 - 07:05 UTC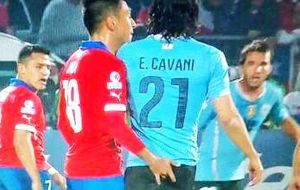 Chile defender Gonzalo Jara will miss the rest of the current Copa America after being suspended for three matches for sticking his finger up an opponent's backside and feigning injury during a match.
CONMEBOL, the governing body of South American football, said in a statement it was suspending Jara for "unsporting behavior". It also fined the Chilean FA US$7,500.
Jara will miss Chile's semi-final clash with Peru this Monday and, depending on the result of that match, either the final or third-place playoff.
He will also be ineligible for Chile's opening match of the qualifying campaign for the 2018 World Cup.
Television images from Chile's quarter-final against Uruguay showed Jara grabbing the backside of Uruguay striker Edinson Cavani and sticking his finger up it.
Cavani responded by gently pushing Jara away but the Chilean fell to the ground as if he had been punched.
The referee booked both players. It was Cavani's second yellow card and he was sent off.
Jara's gesture was the main talking point from the match and has been dubbed "the finger of God" in Chile, an echo of Argentina captain Diego Maradona's infamous "hand of God" goal from the 1986 World Cup.
Uruguay had a second player dismissed in the closing stages of the match, prompting a fracas involving most of the players on the pitch, the coaching staff, the match officials and even a touchline cameraman.
Both teams lodged complaints with CONMEBOL. Chile's complaint against the Uruguayans will be dealt with after the Copa.