Strangling Falklands' hydrocarbons industry is 'unacceptable' with dangerous implications for global business
Monday, June 29th 2015 - 20:25 UTC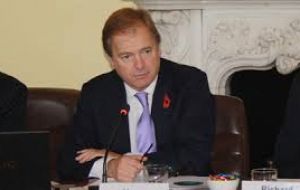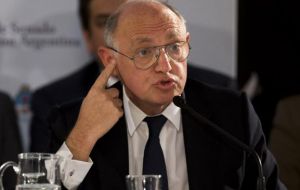 The government of Argentina's campaign to strangle the Falkland Islands hydrocarbons industry is 'unacceptable' and taking action against British and international oil and gas companies has dangerous implications for global business, warned Foreign Office minister Hugo Swire on Monday reacting to an Argentine federal court ordering the seizure of UK and US assets involved in Falklands' operations.
"In the last few days we have seen the latest example of the Argentine authorities' flagrant and unacceptable campaign to strangle the Falkland Islands hydrocarbons industry", pointed out Minister Swire, who recalled Britain's commitment to the Falklands.
"We have been absolutely clear that Argentine domestic law does not apply in the Falkland Islands nor in the waters that surround them. This politically motivated decision to target company assets is a wholly unacceptable attempt to exercise extra-territorial jurisdiction, and has no legal justification whatsoever".
Minister Swire added that this action, aimed at British and international oil and gas companies, has dangerous implications for global business and "the government of Argentina should refrain from unjustified provocations of this kind".
In effect the Falkland Islands' plans to develop their hydrocarbons industry, with the support and expertise of companies from around the world, is a legitimate commercial venture.
"The Falkland Islanders have every right to decide their own future, including through the development of their economy. As ever, we stand behind them and are confident that the international community will continue to resist these Argentine threats" concluded Minister Swire.
Over the weekend a Tierra del Fuego federal court ordered the seizure of more than 156m dollars on international equipment, including ships, drilling platforms and bank accounts of European and US companies involved in Falklands hydrocarbons operations.
Argentina's Foreign minister Timerman was quoted on Sunday saying that on Monday 29 June he would formally request that the stock exchange regulators in London and New York to implement the judge's seizure order. The companies named in the order are Premier Oil Plc; Falkland Oil and Gas Ltd, Rockhopper Exploration Plc, Noble Energy Inc and Edison International Spa.
Argentina claims sovereignty over the Falklands/Malvinas Islands and surrounding waters and for several years now has been on a campaign to isolate the Islands and strangle its economy by threatening companies and personnel from fishing companies, banning charter flights to the Islands, and the latest by pursuing hydrocarbons corporations, managers and workers with threats of prison sentences plus seizure of assets.
The Cristina Fernandez administration argues that the hydrocarbons industry in Falklands waters is operating 'illegally' with no licensing from Argentine authorities, since it's Argentine 'jurisdiction' plus ignoring UN resolutions calling for sovereignty discussions with UK and no innovations while the dispute remains unresolved.