General Cundom sworn in as new Argentine Army chief; outgoing Milani slams media for slander campaign
Tuesday, June 30th 2015 - 06:03 UTC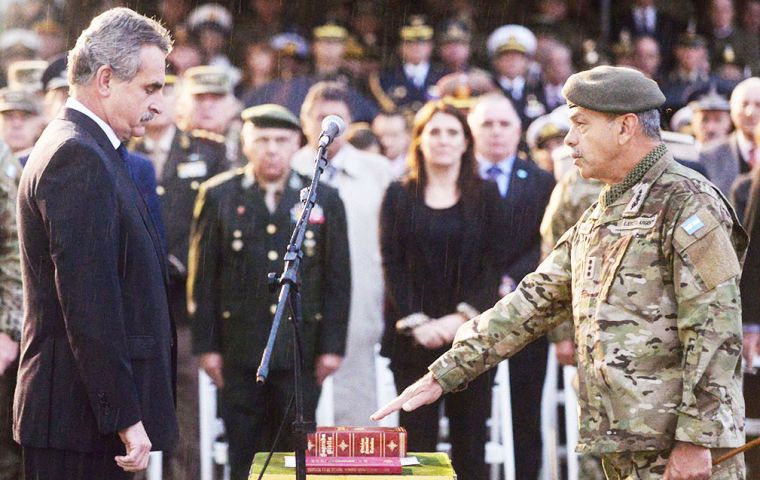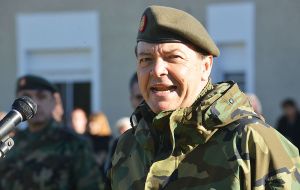 General Ricardo Cundom was sworn in on Monday as the new chief of the Argentine Army, and in his first words said that replacing outgoing César Milani in the role was the biggest challenge he had ever faced.
"I am taking on the greatest challenge of my professional life," Cundom, a veteran helicopter pilot of the 1982 Falklands/Malvinas War, stated during his swearing-in speech. "Leading the Argentine Army is an extremely high honor."
Cundom was named by President Cristina Fernández last week as the successor to Milani, who asked to retire in the midst of several judicial accusations against him for human rights violations, as well as illicit enrichment.
Defense and Security ministers Agustín Rossi and María Cecilia Rodríguez were among the government figures present at the ceremony alongside high-ranking military leaders, including Milani. Cundom further expressed his gratitude to "the President, commander-in-chief of the Armed Forces," for designating him in the role.
In the same ceremony General César Milani broke down in tears as he stepped down officially as head of the Argentine Army, as he thanked his family while hitting out at what he called a media campaign against his position.
"I did my best in rebuilding the essence and the mystique of the Army" said Milani. "I am extremely proud of commanding the 60.000 men and women that worked to achieve that change".
"We will not be going backwards", a visibly emotional Milani fired during his farewell speech before being formally replaced by new Army chief General Ricardo Cundom.
"All those who tried to make sure, with systematic media attacks, lies and slander that we did not fulfill our mission: you were wrong. My disdain goes to all of those. The Army stood up and it is on the march."
Milani also took the opportunity to thank President Cristina Fernández and Defense minister Agustín Rossi for trusting in his work.
"I am proud and happy because my tenure will be judged by my soldiers, my comrades and my friends," he underlined.
Former Defense minister Horacio Jaunarena, from the time of President Raúl Alfonsín claimed that both outgoing Milani and incoming Cundom were involved in acts of insubordination. This occurred in the eighties when a nationalist Colonel Mohamed Seinaldin led an uprising and the two young officers at the time said they would not participate in the quelling of the mutiny.
"They were sanctioned with eight days of arrest each, Milani and Cundom" recalled Jaunarena who nevertheless said that what really matters now is that "we need a change in the institutional approach of government" towards the army.
"Cristina wants an Army not at the service of the Nation, but of a grouping, which is the government", underlined the former defense minister.