Pacific Alliance summit takes off in Peru with business conferences
Thursday, July 2nd 2015 - 06:37 UTC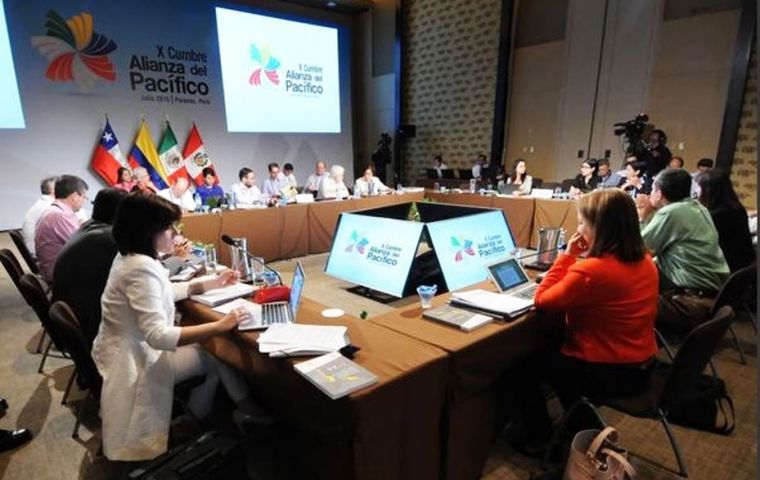 The Xth summit of the Pacific Alliance took off on Wednesday with the attendance of presidents from Chile, Colombia, Mexico and Peru at the Peruvian sea-side resort of Paracas.
Delegates from the 32 observer countries and five international organizations are attending the meeting in which member countries are analyzing the progress and prospects of the Pacific Alliance as well as the challenges that they will face to boost economic and social competitiveness in their countries.
Work started on Wednesday with the High Level Group (GAN) which brings together the Deputy ministers of Commerce and Foreign Affairs. GAN manages the supervision of the technical groups' progress, evaluates areas in which it is possible to move forward and makes projection proposals to pave the way for incorporating other countries and international organizations.
On Thursday Ministers of Commerce and Foreign Affairs will hold a meeting aimed at reviewing objectives and actions according to the Framework Agreement, which is the foundation document of the Pacific Alliance, plus the presidential statements.
The Business Summit of the Pacific Alliance is taking place on parallel and includes the participation of 30 international speakers, chief executives and business leaders from the region. The meeting addresses the prospects for economic and financial integration as well as innovation and the role of business in the leadership of the Pacific Alliance.
On 3 July, heads of State, Michelle Bachelet from Chile, Juan Manuel Santos from Colombia, Enrique Peña Nieto from Mexico and Ollanta Humala from Peru, will hold their summit and Mexico will hand the Pro Tempore Presidency to Peru.
The Pacific Alliance and its integration process already has 32 states with observer status and many of them interested in becoming full members. Likewise representatives from the Inter-American Development Bank (IDB), the Organization for Economic Co-operation and Development (OECD), the European Union (EU), the Association of Southeast Asian Nations (ASEAN) and international organizations that support integration project of the Alliance are attending the event in Paracas.
Four years after its creation, on 28 April 2011, the Pacific Alliance has become a promising mechanism that represents the eighth world economy and its four country members have achieved a remarkable economic performance in the region. It is based on the pillars of free circulation of goods, services, capitals and people, under the concept of cooperation and integration.