US embassy will be opened on July 20; Kerry will raise the flag in Havana
Thursday, July 2nd 2015 - 05:17 UTC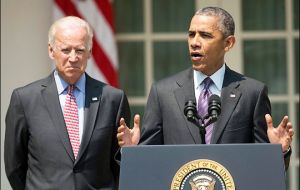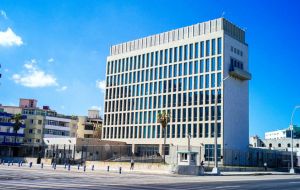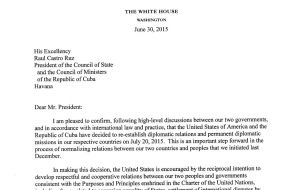 President Obama formally announced on Wednesday that the United States and Cuba have both agreed to open embassies in each other's capitals following more than a half-century of hostilities between the two nations.
"This is a historic step forward in our efforts to normalize relations with the Cuban government and people and begin a new chapter with our neighbors in the Americas," Obama said.
The U.S. Embassy in Havana is scheduled to open on July 20, the Cuban Foreign Ministry said.
The U.S. and Cuba have been negotiating the re-establishment of embassies following a surprise announcement in December that secret talks between the global foes had led to a landmark agreement.
"As part of that effort, President Raul Castro and I directed our teams to negotiate the reestablishment of embassies," Obama said. "Since then our State Department has worked hard with our Cuban counterparts to achieve that goal and later this summer Secretary (John) Kerry will travel to Havana formally to proudly raise the American flag over our embassy once more."
But not everyone is on board with the U.S.-Cuba thaw.
Sen. Marco Rubio, Repubican-Florida, has vowed to oppose the confirmation of an ambassador unless "substantive progress is made" on human rights issues that have dogged Cuba for decades.
"Establishing diplomatic relations with the Castro regime without verified improvements in the [human rights] situation faced by the Cuban people would not be consistent with our values as a nation and the intent of the U.S. Congress, as codified in law," Rubio wrote in a letter to Secretary of State John Kerry.
While the president has power over establishing embassies, nominations for ambassador must go through a Senate confirmation vote.
The U.S. had imposed sanctions and then broke off diplomatic relations entirely with Fidel Castro's communist regime in the early 1960s.
In the decades that followed, the U.S. actively tried to either overthrow the Cuban government or isolate the island altogether through tough economic sanctions first put in place by President Dwight D. Eisenhower.
Rep. Illeana Ros-Lehtinen, R-Fla., said that opening a U.S. Embassy in Cuba misses the mark and "will do nothing to help the Cuban people and is just another trivial attempt for President Obama to go legacy shopping."
The top Democrat on the Senate Foreign Relations Committee, Sen. Ben Cardin of Maryland, said even though opening the embassies was part of a "common sense approach to Cuba," that the U.S. must be cautious about the move. He called on Cuba to admit to being out of step with the international community on human rights. He also said Cuba must stop its "arrests and detention of dissidents" and said "genuine political pluralism is long overdue."