Cristina Fernandez on the campaign trail in Buenos Aires City
Friday, July 3rd 2015 - 08:32 UTC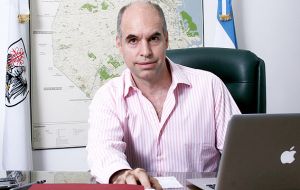 On the last day of campaigning for Buenos Aires City Mayor election next Sunday, Argentine president Cristina Fernandez took to the streets next to her handpicked candidate Mariano Recalde and visited one of several shanty towns in the country's capital.
Following one of his last presentations in national television before the 48 hour publicity ban, hopeful Recalde was joined on Thursday by Cristina Fernandez in a tour of Villa 20, a well known shanty town area. The announcement of her support tour only came minutes before the president arrived.
One of the several places the president and candidate visited was an inclusion school with a robotic lab where apparently children are working with car model robots, including one that automatically avoids walls and other barriers.
"Some of those involved in politics should have these same sensors installed so that they can turn on time and avoid taking the country over the cliff", said Cristina Fernandez, who was also very critical of current Buenos Aires Mayor and presidential candidate Mauricio Macri, and promised that if Recalde was elected, "we'll have robotics in all Buenos Aires city schools".
The president also talked positively about the film "Maleficent", which dumps the 'blue prince' tale that comes to the rescue of Sleeping Beauty with which her generation of gender were educated.
The over 300.000 people that live in Buenos Aires City fifteen shanty towns, originally empty lots' squatters, have repeatedly complained that politicians of all colors only remember them in election time, and never honor promises of improved services, transport and healthcare.
Anyhow in this case it was clear according to the Argentine television that Cristina Fernandez tour was well prepared, with no incidents and only praise, applause and shouts of 'we love you" and 'come back'.
The Lady and Recalde were escorted by Economy Minister Axel Kicillof, Labor Minister Carlos Tomada, Science and Technology Minister Lino Barañao and lawmaker Andrés Larroque among other kirchnerite leaders
However what will happen on Sunday should not be difficult to anticipate, since Buenos Aires city has historically been 'opposition territory' or rather contrary to Argentina's hegemonic Peronist movement that dominates the country's politics. The current mayor is conservative Macri, who has had for the last eight years very good support ratings which have enabled him to attempt the presidential challenge.
Whether Macri makes it or not, will be seen at the presidential dispute in October, but next Sunday the candidate who has his blessing and support, Horacio Larreta, most probably will become his successor as mayor of the Buenos Aires Autonomous City and its 3.2 million residents.
The other competitor with strong ratings in opinion polls is Martin Lousteau running for the ECO Front (an occasional alliance), and obviously Recalde, a prominent member of La Campora the youth group strongly supported by Cristina Fernandez and who has her son Maximo Kirchner as the leader.
But if Recalde is not elected mayor, he should have no problems since he will continue as Aerolineas Argentinas CEO, and one of the highest paid officials of the Kirchnerite administration.
In last April primaries, the PRO of Macri and Larreta collected 47% of ballots, while Lousteau was the runner up with 22% and Recalde in third position with 18.7% of votes cast.
The latest opinion polls released before the ban have Larreta with 42.2% and 43.2%; Lousteau with 24.5% and 24.8% and Recalde 19.7%. However in the City of Buenos Aires Larreta needs 50% of ballots to avoid a runoff. Also at stake are 30 lawmakers benches and 105 Councilors.