Falklands' war: Chilean top commentator defends Chile's role in supporting UK
Friday, July 3rd 2015 - 06:26 UTC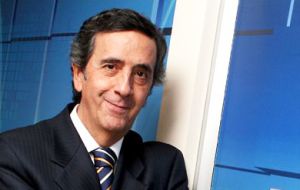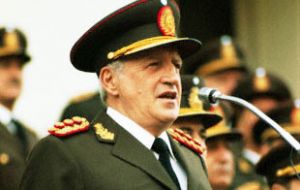 Only a few hours off from Saturday's last match of the 2015 Copa America when the best South American team will emerge, the rivalry between finalists Argentina and hosts Chile has erupted strongly and the Falkland Islands' issue is not absent from aggressive chants and insulting messages in the social networks.
This is particularly true when it comes to a song in which the Argentine fans accuse their Chilean counterparts of treason for having supported the British during the South Atlantic conflict in 1982.
The issue has not been trivialized to potential hooliganism, because one of Chile's most respected and serious political commentators Bernardo de la Maza came out on the issue and dedicated part of his weekly analysis on Moba TV to explain why there was no treason from Chile and why the Chilean position in 1982.
"Chile had more than sufficient reasons to help Great Britain following the Argentine invasion of the Falklands/Malvinas Islands. If successful in the Malvinas Islands, the Argentine military had plans to continue with Chile, as it almost happened back in 1978 when they were planning to invade us", said de la Maza.

"If there was treason, it was from the Argentine military Junta with its own people, which sent unprepared and badly supplied conscripts to die in the islands of the South, to fight a war they would have never won", added de la Maza.
"When General Leopoldo Galtieri addressed a massive rally of Argentines to inform on the successful invasion of the Malvinas he clearly said, and it is recorded in films, videos of the time, 'this is the first step for the recovery of our islands of the South', in clear reference to the three Islands which the late seventies' international arbitration had awarded to Chile but the Argentine military never accepted" recalled the Chilean commentator.
He added that in late 1978 when the Argentine military set off "Sovereignty Operation" it was the personal intervention of Pope John Paul II that stopped the tanks rolling and a full conflict in the south of Chile.
Thus according to de la Maza, Chilean support for the UK "was not only justified to defend the country from the military threat and plans of neighboring Argentina", but also because it was never decisive "as was the US assistance to the UK".
The video can be looked up in YouTube under the name of Bernardo de la Maza.