Republicans anticipate they will not approve a US ambassador to Cuba
Friday, July 3rd 2015 - 07:45 UTC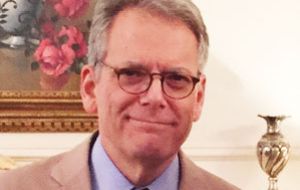 United States Senate Majority Leader Mitch McConnell said on Thursday that his chamber is unlikely to approve a US ambassador to Cuba, sending a quick rebuff to President Barack Obama and his drive to normalize relations with the U.S. neighbor and longtime Cold War foe.
The Kentucky Republican also suggested that the Republican party, which controls Congress, would fight Obama administration efforts to fully lift trade and travel restrictions that have limited US commerce and tourism with the Castro brothers' island nation. McConnell said the country was led by "a thuggish regime."
The comments by McConnell came a day after Obama and Cuban President Raul Castro announced that the two nations will open embassies in Havana and Washington July 20 and resume diplomatic relations severed in 1961, the year Obama was born.
McConnell's remarks underscored that despite a push to ease the curbs by U.S. business and agriculture interests and some Republican lawmakers, the party's leaders remain sympathetic to the more conservative, anti-Castro voices. House Speaker John Boehner, R-Ohio, and several contenders for the GOP's 2016 presidential nomination criticized Obama's moves shortly after they were announced Wednesday.
"You would think that the normalization of relations with Cuba would be accompanied by some modification of their behavior," McConnell said on Thursday at Commerce Lexington, the chamber of commerce for Lexington, Kentucky. Instead, he called the country "a police state" and "a haven for criminals" wanted in the U.S.
"I don't see any evidence at all that they are going to change their behavior. So I doubt if we'll confirm an ambassador, they probably don't need one," McConnell said. He added, "Some of their restrictions on Cuba would require legislation to lift, and we're going to resist that."
Though Obama has not nominated an ambassador for Cuba yet, the current top U.S. diplomat there, Jeffrey DeLaurentis, was expected to be considered for the post.
Labeling the moment "a choice between the future and the past," Obama on Wednesday revealed the latest steps in a half-year of rapid-fire improvements in relations between two nations that lie 90 miles apart but have spent nearly six decades separated by light years diplomatically and economically.
Obama also asked Congress to lift the economic and travel embargoes that the U.S. has used for decades to try forcing Cuba's leaders toward democracy. Obama has partly eased those restrictions on his own, but even before McConnell's comments Thursday, longtime opposition from many Republicans and some Democrats had made it unlikely that lawmakers will fully revoke the bans quickly.
When President Dwight Eisenhower broke relations in 1961 with the Soviet Union aligned regime of Raul's brother, Fidel Castro, it set the tone for decades of Cold War hostility that included failed U.S.-backed efforts to overthrow the island nation's leaders.
Besides McConnell and Boehner, denunciations also have come from several 2016 GOP presidential hopefuls, including former Florida Gov. Jeb Bush and Cuban-American Republican Sens. Marco Rubio of Florida and Ted Cruz of Texas. In a typical comment, Bush said warming relations should "advance the cause of human rights and freedom for the Cuban people" and said the administration's moves were "failing this test."