US asks Switzerland for extradition of seven FIFA officials on bribery charges
Friday, July 3rd 2015 - 06:55 UTC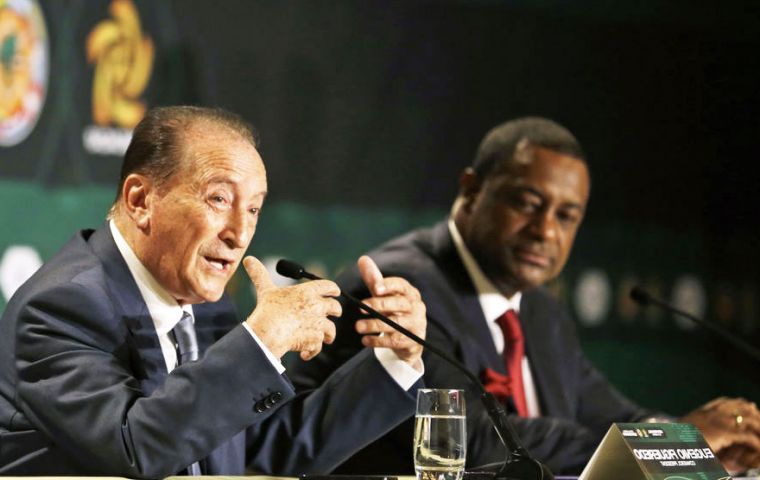 The United States asked Switzerland on Thursday to extradite seven FIFA officials arrested in an investigation into a global bribery scandal at soccer's governing body, the Swiss Federal Office of Justice (FOJ) announced.
The move marks the start of a legal process expected to last several months during which the officials, who have been in jail since being detained on US arrest warrants in May, will either keep fighting extradition to the United States or agree to go.
The arrests of the seven, including two then-members of FIFA's executive committee, took place in a raid on a luxury Zurich hotel on May 27, two days before FIFA's annual congress, pitching the organization into turmoil.
US prosecutors say their investigation - which is running parallel to a separate Swiss inquiry - exposes complex money laundering schemes, millions of dollars in untaxed incomes and tens of millions in offshore accounts held by FIFA officials.
The seven were among 14 people charged in cases involving more than $150 million in bribes over a period of 24 years. Those being held in Switzerland include Jeffrey Webb, the former president of FIFA's Americas confederation CONCACAF, and Eugenio Figueredo, from Uruguay who sat on the executive at the time of their arrest. He also holds a US citizenship. Another high profile official is Brazilian football association ex chief Jose Maria Marin.
The United States Department of Justice brought charges on racketeering, wire fraud, and money laundering. It was dubbed the "World Cup of corruption" by Richard Weber, chief of the Internal Revenue Service Criminal Investigation unit.
Having already objected to extradition, the seven men, currently being held prisons in the Zurich region will be granted hearings and given 14 days to respond to the extradition requests. This time limit may be extended by 14 days "if sufficient grounds exist".
The Federal Office of Justice said it would rule on extradition "within a few weeks" but confirmed its decisions "may be challenged before the Federal Criminal Court, as well as before the Federal Supreme Court, as the ultimate court of appeal".