Ecuadorians take to the streets to protest against Correa; Pope arrives Sunday
Saturday, July 4th 2015 - 07:21 UTC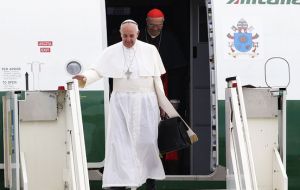 Thousands of people turned out for protest marches across Ecuador on Thursday to call for the ouster of President Rafael Correa just three days before a visit by Pope Francis. Full demonstrations were reported in the three biggest cities, Quito, Guayaquil and Cuenca, as well as other smaller cities. Correa claimed a 'coup' was on the making.
Indigenous groups are upset with Correa's promotion of mining and oil drilling in the Amazon. Human rights groups accuse him of trying to bully the media and environmental activists into silence. But a far larger cross-section of society is now appearing to voice disapproval of his economic policies.
Protests began to widen in early June after Correa tried to impose a 75% tax on inheritances and capital gains from real estate sales. He rescinded the plan, but the marches didn't end.
Much of the discontent stems from austerity. Stung by a collapse in oil prices, the OPEC nation cut its public budget about 4%, imposed tariffs of up to 45% on nearly 3,000 products and ordered wage cuts of up to 10% for some public sector workers.
President Rafael Correa, who had been calling for calm ahead of the papal visit, accused the marchers of being part of an internationally backed plot to end his 8-year-old government.
"Unfortunately, there are clear indications that coup plotters will try to take the Carondelet [presidential palace]," he wrote on Twitter. "Through violence they want to topple a government that has immense national and international support."
Correa called on his followers to crowd the iconic square in front of the palace to defend his "Citizens Revolution."
"How irresponsible for these people to be trying to throw the country into turmoil a few days ahead of the arrival of his holiness," Correa said. "We know the people will judge them."
Correa, an economist who calls himself a socialist of the 21st century, was first elected in 2006 and brought unprecedented stability. He won the appreciation of many poor Ecuadoreans with generous social spending, but he has constantly feuded with the news media, the Roman Catholic Church, bankers and indigenous groups. His third term ends in 2017.