Greece 'Yes' and 'No' voters tied for Sunday's referendum, shows latest poll
Saturday, July 4th 2015 - 07:33 UTC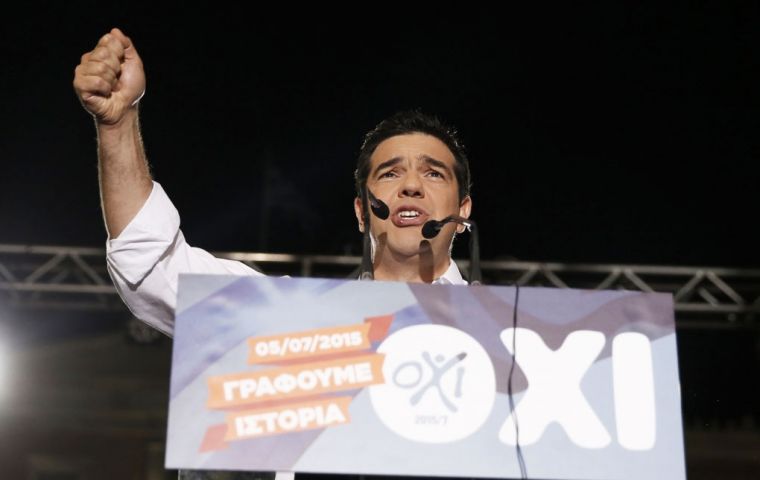 Greeks packed city squares for dueling rallies late into the night Friday, as polls showed a dead heat between the 'yes' and 'no' camps ahead of a bailout referendum Sunday that could be Greece's most important vote since it joined the European Union.
More than 40,000 people gathered at the two rallies, 800 meters apart, before Sunday's vote on whether to accept creditors' proposals for more austerity in exchange for rescue loans, or reject the deal as a show of defiance against years of harsh economic austerity.
"This is not a protest. It is a celebration to overcome fear and blackmail," Greek Prime Minister Alexis Tsipras told a crowd of 25,000 in front of parliament, who were chanting "oxi, oxi" — "no, no." Tsipras angered Greece's creditors by calling the referendum and is urging Greeks to vote no.
Meanwhile, police said about 17,000 people gathered outside the nearby Panathenian stadium for the "yes" rally, waving Greek and European Union flags and chanting "Greece, Europe, Democracy."
Rallies for both campaigns were also held in 10 other Greek cities Friday.
Tsipras is gambling the future of his five-month-old left wing government on Sunday's snap poll — insisting a "no" vote will strengthen his hand to negotiate a third bailout with better terms.
But the high-stakes standoff with lenders this week saw Greece default on debts, close banks to avoid their collapse, and lose access to billions of Euros as an existing bailout deal expired.
The country's top court stayed in session till the late afternoon before rejecting a petition to declare the referendum illegal, while party leaders, personalities, and church elders weighed in with impassioned pleas to vote "no" or "yes" on the airwaves and social media.
In a rare public declaration, 16 former armed forces leaders wrote an appeal to citizens to show "calm and national unity."
A series of polls published Friday at the end of a frantic weeklong campaign showed the two sides in a dead heat, with an incremental lead of the "yes" vote well within the margin of error.
But they showed an overwhelming majority of people, 75% want Greece to remain in the euro currency. Much of the ambiguity arises from the complicated question on the ballot paper:
"Must the agreement plan submitted by the European Commission, the European Central Bank and the International Monetary Fund to the Eurogroup of 25 June, 2015, and comprised of two parts which make up their joint proposal, be accepted? The first document is titled 'reforms for the completion of the current program and beyond' and the second 'Preliminary debt sustainability analysis.'"
"People don't even understand the question," Athens Mayor George Kaminis told supporters at the "yes" rally.