Uruguay experienced poor 2014/15 cruise season; costs in the region limited vessel calls
Saturday, July 4th 2015 - 06:32 UTC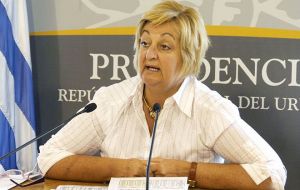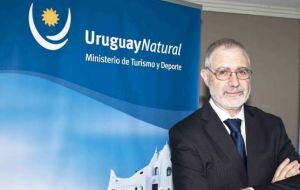 The 2014/15 cruise season was not encouraging for Uruguay which reported a drop in the number of vessels calling; passenger landings and money spent by the industry and visitors, according to the official assessment of the season presented by Tourism ministry officials and other government offices involved in the different operations.
According to the numbers released by minister Liliam Kechichian, the number of calls was 172, visitors' landings 332.118, totaling almost 11 million dollars in expenditures which works out at 33 dollars per capita. This represents a 27.4% drop in the number of vessel calls; 18.9% less visitor landings, with an overall fall in income of 42% and 28.4% in average expenditure, compared to the previous season, over the same period, October 2014 to April 2015.
Most cruise visitors, both in Montevideo and Punta del Este, were Brazilians, 117.610 and 35.419 respectively. Argentines came in as runner ups with 37.216 and 35.419 visitors and from out of the region North Americans (plus 30.000) and Europeans (plus 27.000).
Why the drop, what went wrong?
According to Benjamin Liberoff, Deputy tourism minister, "a number of cruise vessels have been withdrawn from the South American tour, which is also a consequence of rates and operating conditions in several ports in the area (mainly Argentina and to a lesser extent Brazil), but not Uruguay".
Liberoff also mentioned economic uncertainty, which reflected a slowdown in global activity, the price of fuel in South American cruise tours, but could not avoid mentioning Argentina's overall costs and attitude towards the industry.
"We have been affected by Argentina's fixed prices, but we must continue to work jointly and have strategic patience; we will be bringing up the issue at the next Tourism ministers' regional meeting", pledged minister Kechichian.
Looking at the bright side of the season's report, Liberoff said that cruise landing visitors valued Uruguayans' cordiality, the architecture and monuments of Montevideo, the meat market, open spaces, beaches and the sea side promenade, plus safety and easy going attitude of locals. On the negative side, prices, closed stores, hygiene and money exchange rates.
Likewise in Punta del Este, the positive aspects underlined were the people, beaches, hygiene, safety, natural environment and gastronomy. However on the bad side, poor services, lack of proper location and traffic signaling, few or no stores next to the landing point and as in Montevideo the money exchange rate.

Finally the ministry pointed out that the stats were based on two independent opinion polls, in both landing cities. In Montevideo total interviews reached 1.927 in 47% of the cruise vessels that called in. In Punta del Este, polling included 1.348 interviews in 55% of visiting vessels.