Falklands' competitors win three medals in Islands Games at Jersey
Tuesday, July 7th 2015 - 05:50 UTC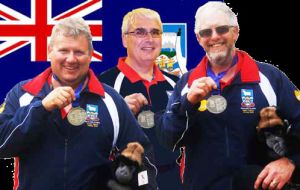 Falklands competitors took home 2 silvers and 1 bronze medal which they won at the 16th International Island Games which were held on the Channel Island of Jersey. The Falklands football team also retained the 'Small Islands Cup' which they won in Bermuda 2 years ago, beating the Norwegian island of Hitra 2-1.

The Games which are sponsored by NatWest Bank attracted around 3,000 competitors from islands as far apart as the Cayman Islands in the Caribbean to Rhodes in Greece with several small Finnish and Norwegian islands in-between, plus all the major islands around Great Britain.

The Falklands pistol shooting pair of Graham Didlick – a former police officer - and David Peck came agonizingly close to taking the gold medal, finishing just 1 point behind a pair from Guernsey in the Police Pistol 1 Team event. Didlick who won the Falklands only ever gold medal in Gotland in 1999 was making a return to competitive shooting after missing several Island Games. He is the most successful Falklands competitors of all-time with 12 medals in all.

A totally unexpected silver medal in Archery was awarded to the Islands former Attorney General Mark Lewis, who is now a legal adviser to the South Georgia Government. In the final of the Men's Recurve Head to Head Knockout, Lewis and Mark Renouf of Jersey tied at 5-5 but the Guernsey archer won gold by virtue of a closer arrow in a sudden death shoot-out.

The Full-Bore (7.62mm) rifle shooters Gareth Goodwin and Ken Aldridge overcame a 7 points deficit, after shooting brilliantly at the very difficult long ranges of 900 and 1,000 yards, and snatched the bronze medal from the Isle of Wight which not only boasts a much larger population than the Falklands but which also fielded an English International shooter. Aldridge was particularly impressive with a combined score of 135 from a possible of 150.

The Falklands football team went 1-0 down to the small Norwegian island of Hitra (pop. 4,500) but a 2nd half equalizer was scored by Zimbabwean Shupi Chipunza who originally arrived in the Falklands in 2010 to assist in clearing mines left behind by occupying Argentine Forces in 1982. He decided to settle in the Falklands and accordingly qualifies to represent the British Self-Governing Overseas Territory.

The winning goal was a truly Chilean affair as Patricio Balladeros hit a free kick perfectly for fellow Chilean Rafael 'Rafa' Sotomayor to head into the net. 'Rafa' spoke of his "great pride in playing for the Falkland Islands and how proud he was to score the winning goal for the Islands that he now calls home'. He has lived and worked in the Islands for around 10 years.

Sotomayor, who's brother Jamie is a hairdresser in Stanley, was praised by opposition Managers for his skill, tenacity and heading ability.

The 'Small Islands Cup' is contested by all islands in the IIGA with populations of 10,000 or less.

Many young competitors in swimming broke Falklands National Records and achieved personal bests while the Badminton team had their first-ever group victory beating Yns Mon 4-1.

All competitors received a free seat from the Falklands to England and back, courtesy of two Oil Companies, Premier Oil and Nobel Energy (USA,) which are drilling for oil around the Falklands and which operate their own long range aircraft out of London on a fortnightly service to and from the Islands. Their generosity resulted in a massive saving in costs for the athletes.

The next International Island Games will be held in the Swedish Island of Gotland in 2017.