Merkel and Hollande tell Greece the door for serious proposals remains open
Tuesday, July 7th 2015 - 07:21 UTC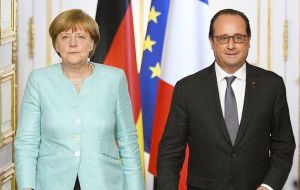 France and Germany told Greece to come up with serious proposals in order to restart financial aid talks, raising pressure on Prime Minister Alexis Tsipras to compromise a day after his country voted overwhelmingly against more austerity
After a meeting in Paris, German Chancellor Angela Merkel and French President Francois Hollande said Athens must move quickly if it wants to secure a cash-for-reform deal with international creditors and avoid crashing out of the Euro.
Raising the stakes on the Greek leader ahead of a Euro-zone summit on Tuesday, the European Central Bank decided to keep a tight grip on funding to Greek banks, which have been closed for more than a week to avoid a massive outflow of money that could lead to their collapse.
The ECB also decided to raise the amount of collateral Greek banks must post for any loans. The move doesn't affect the lenders right away, but it was a warning shot by the ECB to Greek banks that their fate lies in its hands.
And a German finance ministry official dismissed the idea that Berlin would be willing to concede some debt relief to Athens, a position that Tsipras' government has long sought.
Tsipras had earlier promised Merkel that Greece would bring a proposal for a deal to an emergency summit of Euro zone leaders on Tuesday, a Greek official said. It was unclear how much it would differ from other proposals rejected in the past.
"The door is open for discussion," Hollande told reporters, standing next to Merkel after talks at the Elysee Palace.
"It's now up to the government of Alexis Tsipras to offer serious, credible proposals so that this will can be turned into a program which gives a long-term perspective, because Greece needs a long-term perspective in the euro zone with stable rules, as the euro zone itself does."
Meanwhile in Athens leaders of Greece's main ruling and opposition political parties have given written assurances they will back Prime Minister Alexis Tsipras in talks with creditors, the leader of Tsipras' junior coalition partner said.
The remarks by right-wing Independence Greeks leader Panos Kammenos followed talks between political leaders at the presidential mansion in Athens, after Greeks on Sunday voted resoundingly to reject the terms of an international aid deal.