Chile official involved in 2018/2022 World Cup inspections, suspended by FIFA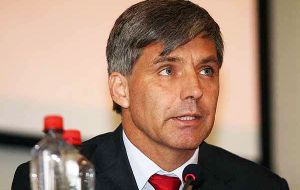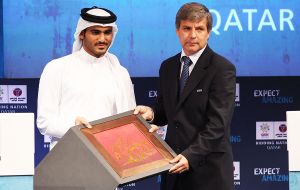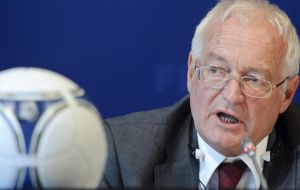 The official chosen by FIFA to inspect 2018 and 2022 World Cup hosting candidates was banned from football for seven years for breaking ethics rules. FIFA's ethics committee gave no reason for its decision to suspend Harold Mayne-Nicholls, a former president of Chile's soccer federation who is disputing the sanction.
"I will appeal to higher courts established in FIFA statutes and TAS (Court of Arbitration for Sport)," Mayne-Nicholls said. "I wonder why FIFA publishes a sanction that has outstanding resources, as this may be modified by higher courts."
Mayne-Nicholls said the ethics committee prohibited him from speaking about the details of the case in public. He has previously spoken to some media about conversations he had in 2010 with officials in Qatar about possible work placements for relatives at the Aspire youth academy.
Details of that case were also published by a website last year, which obtained a leaked e-mail sent to Mayne-Nicholls by Cornel Borbely, who heads the investigation chamber of FIFA's ethics committee.
Mayne-Nicholls was considering standing in the FIFA presidential election when his ethics case was reported last year. Instead, he is barred "from taking part in any kind of soccer-related activity at national and international level for a period of seven years," the ethics panel said in a brief statement.
FIFA ethics judge Joachim Eckert chaired the panel which conducted a personal hearing for Mayne-Nicholls. Eckert's statement said "more detailed information will be given after this final decision becomes effective."
Challenges to FIFA's appeals committee and subsequently to CAS typically take around one year.
Mayne-Nicholls was appointed by FIFA in 2010 to lead a six-member team evaluating the 2018-2022 World Cup bidders. All nine candidates were visited between July and September 2010.
In the technical report, Mayne-Nicholls flagged eventual winners Russia and Qatar as presenting the most risk to FIFA as potential host nations.
The FIFA executive committee largely ignored his report, and a FIFA-commissioned analysis of the commercial prospects for each bidder's World Cup project, in a December 2010 vote. Mayne-Nicholls was voted out of office in Chile soon after completing his task for FIFA.