Chinese markets' volatility edging 'panic sentiment', admit regulators
Wednesday, July 8th 2015 - 09:08 UTC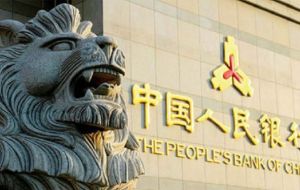 Mainland Chinese shares continued to slide on Wednesday, falling more than 8% on opening. The slump came despite more moves by China's regulators to try and stabilize the recently volatile market.
The Shanghai Composite had recovered some losses by early afternoon and was down 3.88% at 3,582.50, while hundreds more listed companies announced a halt in trading of their stocks - fearing the values of their firms would be wiped out.
Chinese regulators made a string of pledges on Wednesday to try and ease the "panic sentiment" in the market. Other efforts included making more money available to brokerages from its state-backed margin finance firm.
Investors in China rely on margin financing from these brokerages to borrow money to buy stocks. And insurers were given the go-ahead to invest more in blue chip stocks - with the industry watchdog raising limits from 5% of their total assets up to 10%. But none of the announcements inspired confidence.
The statement from the China Securities Regulatory Commission (CSRC) did little to soothe investor worries about tumbling equities. Shortly after the regulator's statement, the People's Bank of China said it would closely watch the stock market's direction and guard against systematic regional financial risks, according to a statement on the central bank's website.
China's state asset administrator also urged central government-owned firms to buy their own stock to stabilize share prices, pleading them not to sell during this period of "unusual market volatility."
In related news Hong Kong's Hang Seng index was down 4.2% at 23,926.09, mirroring falls on China's mainland. Markets in the rest of Asia were also lower - as investors remained cautious about the uncertainty over Greece's position in the Euro zone and the lack of a resolution to the debt crisis.
Japan's Nikkei 225 index was down 2.24% to 19,919.89. Investors took little comfort from data that showed that Japan recorded its second highest monthly current account surplus in the past five years in May, beating expectations.
The current account (a wide measure of trade) saw a surplus of 1.88tn yen ($15.3bn) in May. That marks the eleventh consecutive surplus on a boost from a weaker yen.
In Australia, shares were lower as the price of iron ore - one of its biggest exports - fell almost 6% to a three month low. The benchmark S&P/ASX 200 index was down 1.78% at 5,482.20.
South Korea's Kospi index was lower by 1.04% to 2,019.04 as investors looked forward to the central bank's decision on interest rates on Thursday. The Bank of Korea is widely expected to keep interest rates on hold after cutting them last month to boost the economy from the outbreak of Middle East Respiratory Syndrome (Mers).