Keeping Falklands pristine: waste fuels and oil recycled into energy
Saturday, July 11th 2015 - 06:45 UTC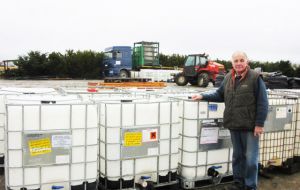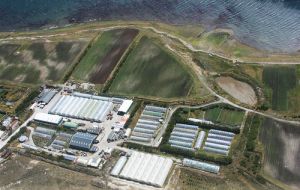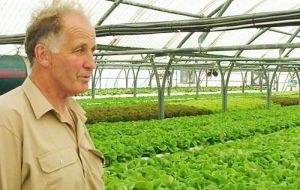 The Falkland Islands have been for many years utilizing waste fuels and oil for energy from a variety of different sources and now the oil companies operating in the Falklands, having complied with all the safety regulations on storage and handling, are also contributing to the local 'processing' industry managed by Tim Miller and his greenhouse fresh vegetables enterprise.
Stanley Growers owner Tim Miller told Penguin News that his business has been receiving 'dirty' waste fuels (diesel and kero) from the Ministry of Defense, and processing waste oil for greenhouse heating, for about 15 years now; the latter from garages, and the fishing and cruise industry.
"Then a larger amount came our way from the first offshore drilling program a few years ago, which was good, but brought with it problems of safe site storage in volume," said Mr. Miller.
He said 15 months ago Premier Oil's waste management team visited Stanley Growers and advised on what improvements were required so they could approve them as a competent handler and disposal of their waste oils and fuels.
Planning permits were approved, work was completed earlier this year and the local company has been receiving waste lube and engine oil from the oil rig since March.
But how does it all work and is it worth the trouble?
First of all, explained Mr. Miller, waste is delivered from the nearby oil yard depot and pumped into numbered Intermediate Bulk Containers (IBCs) which are the 1,000 liter poly-tanks on pallets, "that we now see around in all sorts of uses."
The IBCs are all dated and age is monitored on a master spreadsheet.
Once their safe UV degradation life has expired they are taken out of use and replaced by younger empties courtesy of the oil industry.
The oil is stored in a specially built bunded yard with an impermeable membrane beneath, "so if any oil were to escape it is held secure within the bund drain system. Rain water is drained off as required through an oil-water interceptor and the system is checked and signed off by market garden staff daily," said Mr. Miller.
By the same number system all waste received is logged and traced into the bunded storage yard, and from there on into their settling and ready use burning fuel tanks.
The stock control system is regularly checked and monitored by local health and safety company Invenio, to ensure full traceability at all times, he assured.
Mr. Miller showed Penguin News how nothing is left to chance when it comes to protecting the environment; a secure bunded work area surrounds the settling and ready-use tanks as well as there being bunds around the individual tanks.
Three weeks after filling a 20 ton steel tank, any water that separates is drained off through a separator that shuts off at 15 parts per million of oil in the water; the approved EU and general safety limit.
He said: "Then the oily-water mix that follows on after clear water is drained off into tanks until we reach good pure old black oil. This is then ready for the heavy duty German waste oil burners."
The oily-water mix can then be added back into the ready use burner supply tank at a 10% volume rate, "and the whole is pumped around a micronizer; which basically breaks down the
H20 of water into H and O, and the residue disappears through the burners like steam, without putting anything out".
Burners run at a very high temperature and any heavy metal pollutants are destroyed in the combustion. Flue gases are routinely checked to ensure no high pollution levels and combustion faults.
As a backup, oil spill kits and absorbent materials are on hand at each working area.
Thus, Stanley Growers says Miller, is able to get rid of someone else's rubbish and turn it back into heating energy in order to grow fresh food.
The system does involve a lot of labor due to continual settling and fuel quality checking and regular burner cleaning and maintenance (often twice weekly) and
the replacing of wearing parts.
But despite this Mr, Miller said: "Even so it is far cheaper than regular diesel or kerosene and the cost of either of those would cause us to close down".
Stanley Growers greenhouses was started in 1987 and has since become a renowned supplier of fresh vegetables for the cruise industry calling in the Falklands, as well as for the local population, fishing vessels and MPA. (PN)