Barrage of accusations following a Judge's order to raid Maximo Kirchner's real estate agency
Tuesday, July 14th 2015 - 05:29 UTC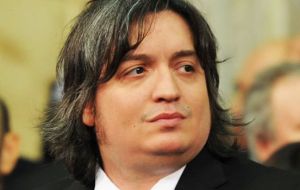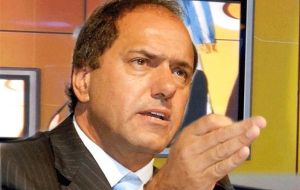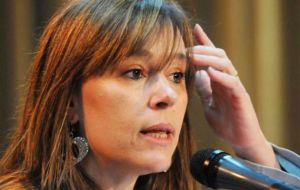 The raid ordered by an Argentine Federal Judge at a real estate agency which belongs to president Cristina Fernandez' son, Maximo Kirchner's in Rio Gallegos, triggered a barrage of accusations from government officials, just a few days ahead of decisive primaries in August, in anticipation of the October presidential elections.
Judge Claudio Bonadio on Monday formally requested information from Idea SA, which belongs to Maximo Kirchner, and Valle Mitre, both companies which are administrators of the hotels owned by President Cristina Fernández. The raids were ordered within the Hotesur probe, which investigates alleged money laundering by the head of state and a close business friend of the Kirchner family, Lazaro Baez, also under investigation for alleged similar crimes.
Maximo Kirchner who is head of the youth movement La Campora is running at the head of the incumbent Victory Front's list of lawmakers for the province of Santa Cruz.
Cabinet Chief Anibal Fernández came on stage to criticize the decision calling it "inconceivable."
"It's inconceivable" blasted Anibal Fernández adding "it happened 17 days before the August 9 PASO primaries are held, when the presidential candidates will be chosen".
Fernandez complained that "one of the places Judge Bonadio required information from is the office of Maximo Kirchner, who is our national lawmaker candidate for the province of Santa Cruz".
Bonadio's measure "is not a raid, but an information inquiry," the head of ministers stressed and said: "This shows the horrible part of the Judiciary."
Victory Front presidential candidate Daniel Scioli also came out against the timing of judge Claudio Bonadío's order to raid offices belonging to Maximo Kirchner.
"These measures ordered 17 working days before an election really do make you think," Scioli fired to reporters when asked about the raid, related to the ongoing investigation into the Hotesur hotel firm in which both Maximo and President Cristina Fernandez de Kirchner hold shares.
"All of us who have institutional responsibilities must make an effort to make sure politics is not played in the courts, where it serves a certain political sector," he added.
Head of the Victory Front's Upper House caucus Juliana Di Tullio claimed that there are undeniable political motivations behind judge Claudio Bonadio's order to raid Maximo Kirchner's offices in Rio Gallegos.
The lawmaker accused presidential hopeful and mayor of Buenos Aires City Mauricio Macri to be behind what she described as "a political operation".
"Alongside Macri's Metropolitan police, Bonadio is carrying out a second political operation," the lawmaker fired, while pointing out that a similar search took place at the start of the year in Buenos Aires City offices "that did not belong to Hotesur".
"This political trickery needs to be spectacular," added Ms Di Tullio.
Alongside other Victory Front lawmakers, Di Tullio called on the opposition to abandon an alleged dirty tricks campaign ahead of the August PASO elections. "We want to hear what plans they have," she underlined.
"We do not want any more operations, we want them to beat us at the polls."
The politician criticized Bonadio for his work on a file that, for her, "does not have any substance to it" and also underlined that the party was considering an official complaint against Bonadio in the Magistrates' Council, recalling that the judge already has nine outstanding complaints against him.