Brazil's economic team reaching out to credit rating agencies for a vote of confidence
Tuesday, July 14th 2015 - 06:00 UTC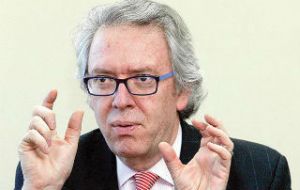 Concerns that Brazil may lose its coveted investment grade credit rating are again on the rise among government officials and investors who worry that President Dilma Rousseff's austerity push won't fully offset plunging government revenues.
As Brazil prepares for a crucial ratings review by Moody's Investors Service in the third quarter, members of Rousseff's economic team are reaching out to credit ratings agencies to ask for a vote of confidence in the government plan to increase budget savings, according to ratings firms sources.
A government source close to Rousseff's economic team confirmed the talks, saying the government "cannot ignore" risks to the investment grade.
A downgrade from investment to speculative "junk" status would be a significant blow to Rousseff's plan to revive investment and growth in Latin America's largest economy as it would scare off long-term investors and increase borrowing costs for companies and the government.
Brazil seemed on track to keep its investment grade earlier this year after Finance Minister Joaquim Levy garnered enough political support for the savings plan, a possible debt crisis at state-run oil company Petrobras was defused and Standard & Poor's reaffirmed the country's rating with a stable outlook on March 23.
Since then, however, government revenues have fallen short as Brazil heads for a deeper-than-expected economic recession. As a result, Brazil is poised to miss its fiscal savings target for 2015, adding pressure on the ratings agencies to downgrade the country.
In May alone, revenues fell 4% from a year earlier despite a series of tax hikes, pushing down the primary fiscal surplus, or what the government saves before debt interest payments, to 25.5 billion Reais ($7.99bn). That amounts to about one-third of the target for the year, meaning the government needs to step up these savings to meet its annual goal.
A broadening corruption scandal at Petrobras has also weighed on the economy and President Dilma Rousseff's popularity, weakening her ability to pass austerity measures through Congress.
Reflecting that angst, Brazil's five-year credit default swaps, a measure of investor perception of the country's credit risk, have widened more than 50 basis points so far this year to 258 basis points. That is still better than the level of over 300 points reached in March, before fears about the investment grade eased.
S&P's "BBB-" rating is one notch above junk status. Fitch's "BBB" and Moody's "Baa2" ratings are two notches above junk status.
Moody's is widely expected by economists and investors to downgrade the country by one notch, still within the investment-grade space. Some analysts, however, fear it could assign a negative outlook to the new rating, signaling it is considering to soon label Brazilian bonds as "speculative" investment.
Mauro Leos, Moody's senior analyst for Latin America, said the discussion about Brazil's rating outlook will be centered on "our assessment about the authorities' ability to stabilize negative growth and fiscal trends during 2016."
"It is difficult to determine at present what the outlook can be," he said in a recent interview. "At present, virtually all indicators are moving in the wrong direction. However we have to try to look past 2015".