"Cordial" meeting of Gibraltar Chief minister and C24 chairman Lasso Mendoza
Thursday, July 16th 2015 - 07:52 UTC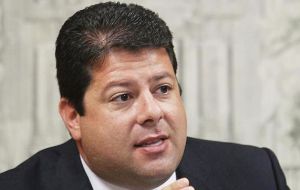 Chief Minister Fabian Picardo explained in detail Gibraltar's views on self-determination during a 'cordial' meeting with Ecuadorian diplomat Xavier Lasso Mendoza, the Chairman of the United Nations Decolonization Committee of 24, in New York on Tuesday, reports the Gibraltar Chronicle.
Picardo took the opportunity to put across the Gibraltar position to the Chairman directly and stressed that the right to self-determination of the Gibraltarians must be paramount in the decolonization of Gibraltar.
The meeting followed the Chief Minister's address to the United Nations in June where the point was made that the Chairman had met and discussed Gibraltar with the representative of Spain.
"I am grateful to Ambassador Mendoza for the opportunity to meet him in private on a formal basis in his capacity as Chairman of the United Nations Committee of 24," Mr Picardo said.
"It was useful to hear what the Ambassador had to say but we obviously did not agree on everything."
"It was nonetheless a very cordial encounter and I think we have left little doubt in the Ambassador's mind of what the position of the Government and people of Gibraltar is on the important issues that are relevant to the determination of the Committee of 24 in relation to decolonization."
"I am very pleased with how it went and look forward to the follow up work we will now be doing."
"Needless to say, I left further copies of the 2006 Constitution with Mr. Lasso Mendoza and renewed the invitation for a visiting mission."
Finally the meeting with the Chairman took place at the Embassy of Ecuador to the United Nations and "the role of the United Nations in the decolonization process was discussed in considerable detail".