Jewish Congress criticizes "lack of progress" in investigation of 1994 AMIA bombing
Saturday, July 18th 2015 - 08:29 UTC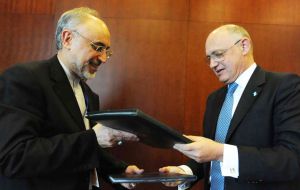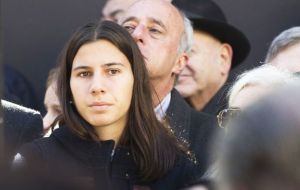 World Jewish Congress (WJC) CEO Robert Singer criticized on Friday "a lack of progress" in the investigation of the 1994 AMIA bombing, during the twenty first commemorations of the attack on the local Jewish community headquarters in downtown Buenos Aires.
The perpetrators of the 18 July 1994 bombing that killed 85 people and wounded hundreds have never been identified, but Singer charged Iran was responsible. "Justice hasn't been done yet, but we will not rest until justice has been done," he said.
Singer criticized what he called a "lack of progress in the investigation" and added: "No matter how long it takes, we will not rest until justice has been done!"
The WJC chief executive, who was representing WJC President Ronald S. Lauder in Argentina, also criticized the Argentine government for signing a memorandum of understanding with Iran in January 2013 which envisages the establishment of a joint 'truth commission' to investigate the attack.
"That deal was a big mistake. Everybody knows that you can't put the fox in charge of the henhouse, and you can't appoint the person accused of masterminding a crime to judge. This memorandum suggests that somehow Iran is interested and ready to cooperate in this investigation. Of course, they aren't. All they are interested in is an official whitewash from Argentina."
Singer added: "After the tragic and mysterious death of Special Prosecutor Alberto Nisman last January, a man who did so much to advance this investigation and who is sadly missed, we are now faced with a crucial question: Will we ever see justice in the AMIA case? Will the Argentine government continue to have the worst terror attack in this country's history investigated, or will it try to close this chapter?
"It is of critical importance that all of us continue to speak out, and to insist that justice be done. We owe it to the 85 people who died in this massacre, and to the many who were injured.
"The world is watching Argentina. The world – and not just the Jewish world – is looking at the words and actions of Argentina's political and social leaders in this respect. These words and actions matter a lot. Those responsible must be brought to justice," Singer declared.
Also attending the commemoration at the new AMIA headquarters was Iara, the eldest daughter of Special Prosecutor Nisman, who lit a candle and deposited a flower to honor his father.
She then delivered a handwritten letter to be read aloud: "We ask you to support us and help us find the truth about what happened with our dad, whatever it be, and leaving aside things that are said sometimes to tarnish his image, because he can't defend himself and they belittle valor to his efforts and his work".
Present at the commemoration was also Sara Garfunkel, mother of Nisman. The fifteen year old Iara and Ms Garfunkel showed themselves under a banner "Victims of terrorism; Victims of impunity".