Brazil's Levy warns that relaxing spending cuts will only extend the pain
Monday, July 20th 2015 - 07:30 UTC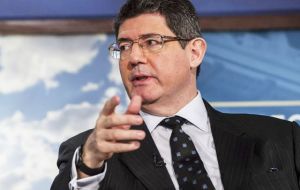 Brazil's Finance minister Joaquim Levy warned that any attempt to relax spending-reduction goals for this year would inevitably extend the duration of the current fiscal adjustment program. The statement was made on Sunday in a long interview with one of Brazil's leading dailies, Folha de Sao Paulo.
Some members of President Dilma Rousseff's government and a few ruling coalition lawmakers want the government to cut its primary budget surplus target for this year from the current 1.1% of GDP to avoid the impact of the country's steepest downturn in 25 years.
Asked in the interview with Folha de S. Paulo newspaper whether reducing the surplus target now could mean deeper spending cuts in the future, Levy said that "no doubt about it, it will bring about more costs" for the country.
Brazil needs to signal to investors that it will continue to trim budget spending until confidence returns, the newspaper quoted Levy as saying.
The government was "not undertaking a colossal fiscal adjustment," he said, adding that the flagging economy was a result of declining consumer and business confidence, and not because of lower government spending.
Levy is pushing to increase one-time revenues, such as the sale of stakes in several state companies, to help mitigate the spending reductions, Folha said.
Analysts at Moody's Investors Service visited Brazil in recent days to conduct a review of Brazil's credit rating, currently at Baa2 with a negative outlook.
Asked whether Moody's was poised to cut Brazil's sovereign rating, Levy said that "in the absence of an adjustment, that possibility increases". Basically "it depends on how much adjustment we do," he added.