Obama administration drafting plan to definitively close Guantánamo prison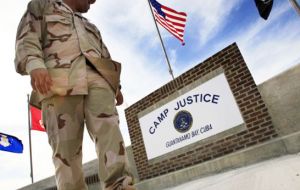 The White House said it was in the final stage of drafting a plan for closing the Guantánamo prison for foreign terrorism suspects, racing against time to resolve one of President Barack Obama's most intractable problems. Spokesman Josh Earnest said the administration hoped to "short circuit" opposition from Republicans in Congress who have blocked Obama from closing the prison.
Republicans have barred transfers to the US from the facility at the Guantánamo Bay US Naval base in Cuba. The administration has also faced resistance in the Pentagon to repatriating those still seen as a potential threat.
The prison has been the source of alleged abuses, including the waterboarding of prisoners under interrogation, and the White House says it is used as a propaganda tool for militant groups recruiting supporters to fight America.
It was set up after the Sept. 11, 2001, attacks for al Qaeda and Taliban detainees. Obama vowed to close it within a year when he came to office in 2009.
"The administration is ... in the final stages of drafting a plan to safely, responsibly, closing the prison at Guantánamo and to present that plan to Congress," Earnest told a regular briefing.
There were two transfers of prisoners to their homeland or third countries this year that cut the total there from 127 to 116. Washington has ruled out sending 69 Yemenis home because of the chaotic security situation in their homeland