Protesting French farmers promised €600m of emergency government help
Thursday, July 23rd 2015 - 08:18 UTC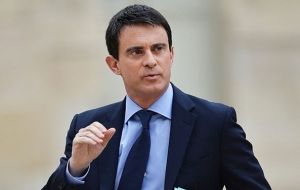 Dramatic protests across the north of France have won the country's farmers €600m of emergency government help. This week thousands of tractors blockaded motorways and brought cities to a standstill, as the plight of producers dominated the nation's news.
Protestors dumped manure, milk and straw on roads and in supermarket trolleys, some setting fires that burned through the night.
French livestock and dairy farmers are furious about drastic cost-cutting by retailers, with more than 22,000 producers on the brink of bankruptcy. After pressure, the government announced millions of Euros of support for crisis-hit farmers on Wednesday.
The support includes a plan of 24 measures aimed at raising producer prices, a restructure farm debts, work on improved contracts, boosting productivity, and rebuilding of national and international markets.
Unveiling the support, France's prime minister Manuel Valls called on retailers to honor commitments to raise prices and asked shoppers to buy quality French meat.
"The demonstrations of the past few days underline an anger, an anxiety, a distress that we have seen for a long time," he said.
"Many livestock farmers feel their efforts are not getting a return. Being a farmer means sacrificing family life to work on a farm and contribute to the mission of feeding the French people."
Reacting to the government's announcement, president of France's farmers' union, the FNSEA, Xavier Beulin made a parallel between the Greek debt crisis and the pressure on French farmers.
The FNSEA chief suggested real action and not just words was needed. Blockades continued while the union mulled over the new emergency measures.
"The impressive mobilization of the past few weeks, the speeches from the president, the dedication of the prime minister, the work of mediators – these all make good sense," Mr Beulin said.
"But we must remember the top priority, the farm gate price, and the ability of farmers to recover from this position, particularly with the question of contracts and debt restructuring", he underlined.