Guyana warns in Washington about the Venezuelan threat to its territory
Monday, July 27th 2015 - 05:20 UTC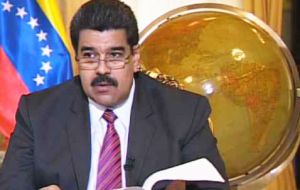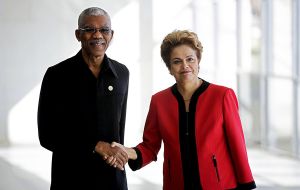 Guyana's territorial dispute with neighboring Venezuela represents a threat to its very survival, President David Granger warned Friday in Washington. After a recent offshore oil find, the row between the two countries has escalated, with Venezuela laying claim to a huge swathe of Guyana's territory.
"Guyana at the moment is facing a challenge to its survival by a larger state," Granger told guests at the William Perry Center of Hemispheric Defense Studies.
Caracas claims waters off the Essequibo region that would include the oil find. The region straddles the two countries and Venezuela disputes the settlement of the border drawn through the 215,000 square kilometer region.
Granger warned the conflict could spill over if not dealt with quickly.
"The present threat, if not resolved promptly, if not resolved permanently, if not resolved peacefully could lead to deterioration of the security situation in the entire Caribbean and on the northern tier of the South American continent," he said.
"This is too much to bear for a country with fewer than a million people."
Venezuelan President Nicolas Maduro has blamed United States, including oil company Exxon Mobil, for provoking the dispute.
Speaking about Granger's visit to Washington, Maduro pointed his finger at the oil giant. "Who took him to Washington? Exxon Mobil," he said at a ceremony under the slogan, "The sun in Venezuela rises in Essequibo."
Guyana has asked for the United Nations to help resolve the border dispute.
Meanwhile it was reported from Georgetown that steps are to be taken to enable Guyana's agricultural produce to enter Brazil following a meeting on a meeting on Saturday in Boa Vista between Agriculture Minister Noel Holder and an advisor to the Governor of Roraima state.
Holder while engaged in talks with the former Governor and current Special Advisor to the Governor of Roraima, Neudo Ribeiro Campos expressed Guyana's support for any efforts aimed at fostering closer cooperation in areas of mutual interest.
Several issues relative to cross border trade, the road from Lethem to Linden, a deep water harbor and closer cooperation in the sharing of skills and expertise were also discussed.
Following the latest round in the Essequibo dispute, the administration of president Maduro recently announced it would not be taking any more rice from Guyana. Rice is one of Guyana's main exports.