Malvinas' past statements, open new flank for Buenos Aires mayor Macri
Monday, July 27th 2015 - 06:08 UTC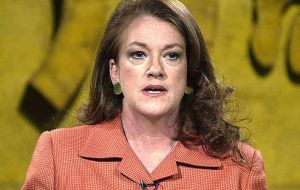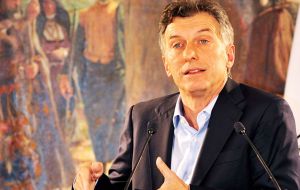 "It is dangerous to forget what (Mauricio) Macri said about the Malvinas, that they would represent a deficit for Argentina", Alicia Castro, Argentine ambassador in the UK was quoted by the Buenos Aires media, following on statements from the Argentine capital's mayor and presidential hopeful in reference to the Falklands Islands.
Two Sundays ago Macri's mayoral candidate for the City of Buenos Aires, Horacio Rodriguez Larreta just managed to scrape through in the run-off after having overwhelmed his runner up in the first round and confident of an ample victory according to the opinion polls released leading to Sunday 19 July.
Since then Macri, the pro-business, orthodox economics, politically conservative candidate has lost his allure and the initial thrust he triggered when he first announced he was running for president in next October's election.
Since then also, president Cristina Fernandez, cabinet ministers, and even her son and hopeful lawmaker Maximo Kirchner have taken turns to bash Macri for his poor showing and the fact that following the very slim runoff victory of his city mayor candidate, he announced some of the things 'he would do' if elected president and these include respecting several of the current administration policies.
So along comes the turn of ambassador Castro.
"Not long ago Macri anticipated that the Malvinas Islands would represent a significant deficit for Argentina" recalled Castro and now "he changes his speech and policy announcements according to what the opinion polls show, this is very serious and of most concern".
"I think it is most worrying that Macri should downplay the value of a country's sovereignty, which is what enables a country to have economic sovereignty and establish strategic alliances. It is worrying to listen to what he has to say about international relations"
"Argentina's sovereignty claim over the Malvinas Islands is one of the very few issues on which the political establishment, with different shades, almost imperceptible agrees. But records can be surprising and can complicate people, and this time it was Macri's turn", pointed out ambassador Castro.
The ambassador in London recalled that back in 1997, Macri was interviewed on the issue and his reply surprised everybody. He minimized the claim and stated, "I never quite understood the sovereignty claims of such as big country as ours. We don't have a space problem such as Israel, for example".
But apparently he did not stop there: in effect as a pro-business man and faithful to orthodox economics, the heir of an industrial and real estate conglomerate added, "as far as I know it costs quite a bit to the English Treasury to keep the Malvinas Islands" so if they are recovered for Argentina, "Malvinas will become an additional deficit for the country's accounts".