Uruguay's meat exports in almost seven months close to the billion dollars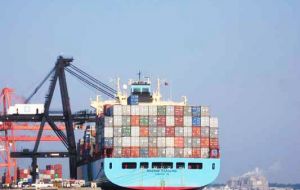 Uruguay exports of meats reached 978 million dollars between January and 18 July of which 83% beef; 5,5% offal; 3% ovine; other industrialized meats 2.7% and 1.5% horse, according to the latest release from the country's Meats institute economics office, Inac.
Beef was equivalent to 816 million dollars and 213.189 tons, while the main markets, European Union, Nafta (US, Canada and Mexico), China, Israel. However China has become the main buyer of Uruguayan beef and offal, 265 million; followed by Nafta, 191 million and the EU, 181.5 million.
By economic spaces China leads with 41%, followed by Nafta, 25%, EU, 13%; Israel, 7% and Mercosur, 5%.
Meanwhile ovine meat exports (lamb and mutton) completed 6.064 tons equivalent to 27 million dollars. Main markets, EU, Mercosur and China. Uruguay's flock has contracted dramatically in the last two decades as it yielded land to agriculture and cattle. From over 20 million the number of sheep is now between 6 and 7 million.
Offal exports totaled 48.3 million dollars; equine meat 13.2 million; 3.5 million broilers; 24 million industrialized meats; 12.9 m in residual edible sub products; 15m for primary industrial use and 1.4 million dollars in protein for animal feed.
Uruguay's excellent sanitary situation and grass-fed cattle has the country among the world's main exporters to the most strict markets such as the EU, US, Japan and Korea. To compensate the sale of top prime beef, Uruguay is importing Brazilian beef for its domestic market.