Carwyn Jones grateful to Chubut for helping preserve Welsh language and culture
Tuesday, July 28th 2015 - 05:38 UTC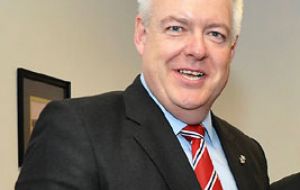 Welsh First Minister Carwyn Jones said it was an honor and a privilege to be in Chubut for the celebration of the 150th anniversary of the first Welsh settlers arrival in Patagonia, and thanked provincial governor Martin Buzzi for organizing the event and helping to preserve Welsh traditions, culture and language.
"I recall when governor Buzzi and his delegation visited Cardiff last year to coordinate events and I can see that a year later hard work and dedication have contributed to setting up the celebrations", said Jones during his visit to Chubut province government house in Rawson.
The Welsh official said that as a child he was impressed how the people from Chubut kept speaking in Welsh despite so many generations since having left Wales, and admitted that only thirty years ago it was believed that Welsh as a language was condemned, confined just to the oldest generations.
But fortunately in Chubut things have changed, "with the support from local authorities for which we are most grateful", and "us in Wales as a government have been able to back those efforts by providing teachers to ensure the language survives".
"It is marvelous to see the acknowledgement from the Welsh community all these years, and even from those who are not Welsh descendents but have also joined in helping Welsh culture and language", said Jones.
Governor Buzzi then presented First Minister Jones with a painting from a local Gaiman artist which represents the chapel of Bryn Crwn, a blend of the original Welsh construction and the arid desert the first settlers found when they arrived 150 years ago.
The two officials then signed an agreement by which the visiting BBC orchestra will be holding music workshops and will later offer two concerts in Trelew during next October. The workshops are scheduled for 22 and 28 October while the concerts will take place 30 October
"We welcome this event in October together with the BBC orchestra that is coming to celebrate with us, one of the many events planned to share with the Welsh community, in our country", said Buzzi following the signature of the document.
As to the repertoire, Buzzi added that as part of the Welsh tradition and culture "singing has always been a great moment of encounter and form of expression". He also mentioned that a book on Welsh tradition and culture in Chubut province was been prepared.
Finally Buzzi thanked First Minister Jones and his delegation for visiting Chubut on such a special occasion and for sharing "festivities in our land and allowing us to offer the same hospitality we have received every time we have visited Wales, as part of this strong brotherly bond with Chubut".