Chinese shares on the slide after dropping 8% on Monday; central bank to inject liquidity
Tuesday, July 28th 2015 - 07:00 UTC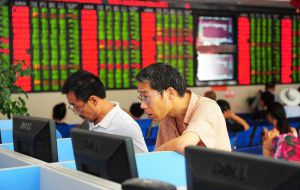 Shares in mainland China continued their slide on Tuesday, after a historic sell-off the previous day. The Shanghai Composite fell by 4.3% to 3,567.38 points in early trade, after the index on Monday saw its biggest drop in eight years with an 8% tumble.
China has tried to calm investors by reassuring it would implement prudent monetary policy to stabilize markets. The country's central bank said it would inject 50bn Yuan ($8.05bn) into the money markets. The People's Bank of China also insisted that the country's main economic indicators were steadily improving.
The dramatic drop on Monday, though, had followed weak economic data on profit at Chinese industrial firms and a disappointing private factory sector survey on Friday.
The regulating authority China Securities Finance Corporation (CSFC) also said there would be a crackdown on short selling. "Any malicious trading will be investigated and severely punished," the CSFC warned in a statement.
In Hong Kong's, the Hang Seng index followed the mainland's lead and was down by 0.5% to 24,229.47 points in early trade.
Elsewhere in Asia, stock took the cue from the poor performance on the Chinese mainland and also traded in negative territory.
Asia's largest stock market, Japan's Nikkei 225 was 1.1% down to 20,123.70 points.
Shares in camera maker Canon were up 0.8%. The rise comes as a surprise after the firm cut its earnings outlook and reported a 16% fall in quarterly profit on Monday.
Sales are hit by consumers increasingly using their smart phones rather than compact cameras.
In South Korea, the benchmark Kospi fell 0.9% to 2,019.92 points. Relief for stocks could come from Prime Minister Hwang Kyo-Ahn declaring the end of the deadly outbreak of Middle East Respiratory Syndrome (Mers).
36 people died out of the 186 infected by the virus, following the first diagnosis on 20 May. The outbreak had been a major strain on the country's economy, affecting domestic consumption and tourism. The quarantine of the last suspected patient was lifted on Monday.
Australian stocks followed the region's trend, falling 0.9% to 5,542.20 points.
China is Australia's main market and the dramatic volatility in Chinese stocks as well as the slowing growth indicators are likely dampening investor sentiment.