Maduro formally requests UN mediation in border dispute with Guyana
Wednesday, July 29th 2015 - 06:43 UTC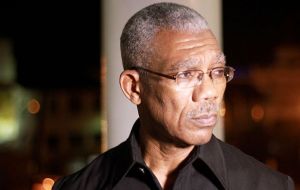 Venezuela's president Nicolas Maduro said he asked U.N. Secretary-General Ban Ki-moon for U.N. mediation in his country's century-old border dispute with neighboring Guyana. The controversy was discussed by Maduro and Ban at a meeting Tuesday morning in New York.
"We will continue to work through diplomatic means," Maduro told reporters after the meeting. "We will overcome the provocations and aggressions of [Guyanese President David] Granger."
In a brief statement the UN media office said that "The Secretary-General met today with President of Venezuela, H.E. Mr. Nicolás Maduro.
"The Secretary-General congratulated the Venezuelan Government on its contributions to the global agenda, particularly as a member of the Security Council.
"He took note of President Maduro's views regarding the Guyana-Venezuela border controversy and reiterated his assurances of the readiness of the UN Secretariat to discuss the way forward with both Governments".
Guyana is a small former British colony of around 740,000 people on the northeast shoulder of South America. The controversy centers on land to the west of Guyana's Essequibo River, encompassing around two-thirds of the English-speaking nation.
The area has long been denoted on Venezuelan maps as a "reclamation zone," while in practice Guyanese have long lived and mined there.
The controversy was revived in May after an offshore oil discovery by Exxon Mobil Corp which could be a major boost to the poor nation which depends heavily on rice, gold, diamonds and bauxite.
Maduro signed a decree soon after the announcement that created a theoretical "defense" zone offshore that would, in Venezuela's eyes, leave the former British colony with no direct access to the Atlantic Ocean.
Guyana described the decree as a "flagrant violation of international law."
Granger, elected Guyana's president in May, spoke in Washington last week about the dispute, saying the controversy was "too much to bear for a country with fewer than a million people."
Relations between the two nations were warm under Venezuela's former president Hugo Chavez but cooled significantly when Maduro took power in 2013. Critics of Maduro say Venezuela's high inflation, crime and his low approval ratings have led him to use Guyana as a distraction.