Fed pleased with labor market gains but inflation remains 'soft' distant from 2% target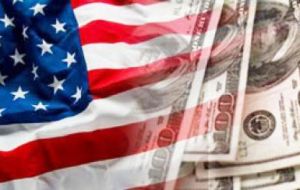 The United States Federal Reserve on Wednesday decided to leave its benchmark federal funds interest rate unchanged at between 0 percent and 0.25 percent, while it offered an optimistic assessment of the world's biggest economy and hinted that a rate hike remains on the short-term horizon.
"The labor market continued to improve, with solid job gains and declining unemployment," the Federal Open Market Committee, the U.S. central bank's rate-setting body, said in a statement at the close of a two-day meeting on monetary policy.
The U.S. unemployment rate fell to 5.3% in June, its lowest level since April 2008, shortly before the onset of the Great Recession.
However the FOMC release also pointed out to the continued "soft" business investment and exports, and said inflation remained softer than monetary policy makers want to see, though noting that much of the weakness is related to the plunge in energy prices over the past year and to cheaper imports, thanks to the strong dollar.
The economy continues to grow at a "moderate" clip, the Federal Reserve said, although it noted that the consumer price index edged up just 0.1% in the 12 months through June and that inflation remains below the Fed's medium-term target of 2%.
The Federal Reserve has the dual mandate of promoting maximum employment and price stability.
The FOMC's members, headed by the chair of the Fed's Board of Governors, Janet Yellen, voted unanimously Wednesday to leave interest rates unchanged.
The FOMC gave no assurances that a long-awaited rate hike will occur at its next policy meeting in mid-September, saying it "anticipates that it will be appropriate to raise the target range for the federal funds rate when it has seen some further improvement in the labor market and is reasonably confident that inflation will move back to its 2% objective over the medium term.
The Fed funds rate has been held at 0-0.25 per cent since late 2008 to help bring the US economy back from deep recession, and Fed Chair Janet Yellen has said recently that she expects a rate hike will come by the end of the year.